Delivering Kindness: South Carolina teacher nears $1 million raised for
St. Jude

- on a moped

What started as a new high school teacher's way to keep his kids occupied has given a community purpose. Frank Falls shares what drives him.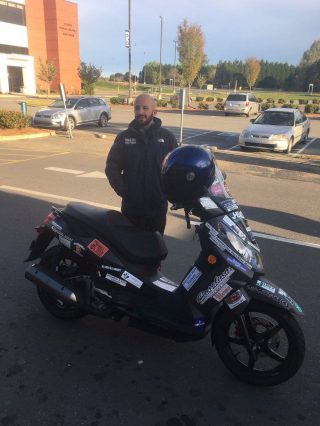 Each year since 2008, teacher Frank Falls of Clover High School in Clover, South Carolina, has led his students to raise money for St. Jude Children's Research Hospital through various fundraisers they put on themselves. And each year, Falls delivers their donations to St. Jude on a moped — a journey of more than 1,200 miles round trip. Moped to Memphis (M2M) is closing in on $1 million in total donations, possibly by the end of the school year. Here's our conversation with Frank on how — and why — he does it.
What first gave you the idea for M2M?
Honestly, as a first-year teacher, I was trying to fill time! That's horrible to say, but… We started teaching seniors, and I thought, "Well, we've got to think of something community-service related that we can do for 10 to 20 minutes a couple times a week." We brainstormed a few charities, and St. Jude was the one that everybody picked. If you can get 60 or 70 18-year-olds to agree on anything, you've accomplished something.
The first year, it had nothing to do with the mopeds. I grew out my beard, and as long as they were raising money, I didn't shave. That year, we raised $3,200 for St. Jude.
The second year, I looked it up and learned there were 622 back wood miles to Memphis, and I put our goal at $10 a mile or $6,220. I said, if we get it, I'll ride the donations to the hospital. We decided to call it Moped to Memphis or M2M.
It's a catchy name.
It had to be memorable. Something's got to hook people.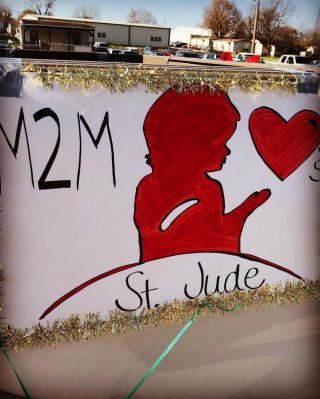 The first time we did the M2M ride to Memphis, people checked in and wanted to follow along with me on my route, but I don't think people pay attention to the dots on the map anymore. The moped may have hooked people, but St. Jude is what keeps 'em.
You'd have to find a real coldhearted person to have something bad to say about St. Jude. I'm not even really joking. I think it's the one thing that probably could unite us all.
What kind of moped do you drive?
Carolina Fun Machines in Matthews, North Carolina, donates a new scooter to our fundraiser each year, and we raffle it off when we get back. They've donated all our scooters, and it's a different one every year. So it's whatever he gives me! He's a real good guy. Name's Tim. He thought I was a little bit crazy and probably thought I was going to scam him out of a scooter the first year, but he's a good sport and wanted to help out St. Jude. He's been a big supporter of us ever since.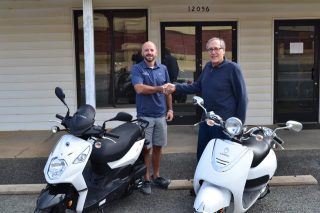 You've been able to tap into the creativity of your students when it comes to creating some really unique fundraisers.
The good thing is that we've grown from being a school to a community organization, so we have people of all ages throughout the community thinking of ways to raise money through M2M because, honestly, St. Jude sells itself. People give because of the kids at St. Jude.
We've done hotdog, cookie and t-shirt sales in the community. We have a golf tournament. We've had adult proms and pageants. We've had casino nights just for grownups. We do raffles and Bingo nights, including online Bingo, which was good during the pandemic.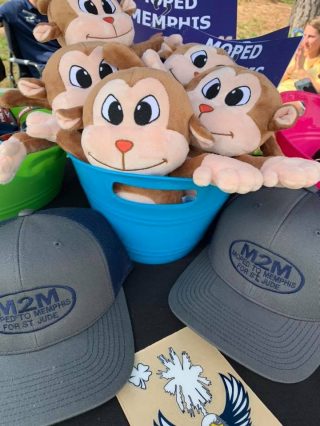 Somebody's given us a boat to raffle off.
Our 5K is called the Ugly Sweater 5K, and it's usually around Christmastime.
We do silent auctions at our events, and one year, we noticed that a couple of guys had gotten into a bidding war over a Build-A-Bear that had been donated. They were paying between $500 and $700 for these bears, just for competition. So it gave us the idea we should design our own stuffed animals, so we went and designed our own boy and girl monkeys. Which took a lot longer than I ever thought designing a stuffed animal would! So we sell those.
How well do you know the M2M route at this point?
I pretty much know it by heart now. All the winding routes through north Georgia, north Alabama and north Mississippi. The first day is very scenic. You have to go through the mountains, and there's a lot to look at. A group of us make the trip together.
On the second day, you're on Highway 72 into Memphis. It's straight. Not tons to look at, but the good thing about the second day is Cherokee, Alabama. That's where the Shoe Tree is, the roadside landmark. We stop there every year on the second day and throw shoes up at the tree in memory or honor of somebody, including St. Jude kids from our community if the parents ask us to.
I love the Shoe Tree. And let me tell you how silly I get about it… In a car, not on a moped, the day after Christmas, me and my mom drive to the Shoe Tree and decorate the tree and drive back on the same day. We'll put out solar lights and some Christmas balls on the trees below it and head back home.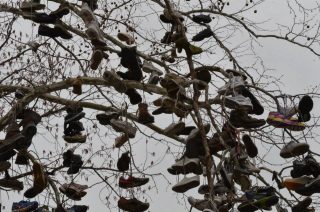 Why do you do it?
I don't know. I'm drawn to the Shoe Tree. I know it sounds strange.
The first time we went to Memphis, we drove past it, and we didn't stop because we didn't know what the heck we were looking at. Our next stop for fuel, we were like, "Did you see that tree with all the shoes?"
But now there aren't many days I don't think about that tree. And all the shoes. And all the names written on those shoes. It's connected to St. Jude for me.
People who give to St. Jude through M2M will contact us and ask, "Hey do you mind throwing Uncle Charlie's sneakers in the Shoe Tree?"
I even have the Shoe Tree saved on all my weather apps. I think about the kids at St. Jude, and I think about that dang tree just about every day.
What's it like on the trip when St. Jude comes into view?
We come in and stay near the minor league ballpark, and I can look over that last half mile to the right and see it. Kind of corny, but it takes your breath away.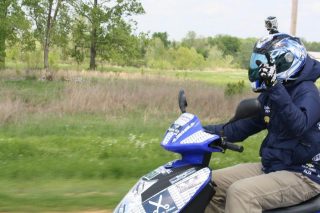 What do your students get out of the work they do for M2M?
M2M changes these kids. It's a lot to do, and the ones who really get into it understand that if you're going to accomplish a fundraising event, it just doesn't happen automatically. I think it gives them a better perspective of working as a team. These are skills they can build on.
What does St. Jude mean to you?
I don't want to be melodramatic, but it kind of saved me. Right before we launched this fundraiser in 2008, I'd had a lot of big changes in my life. Not bad ones or anything. I won't say I was lost, but I needed some sort of purpose.
Honestly, fundraising for St. Jude put me on track and really became my life's purpose. That's why the Shoe Tree and the trip to Memphis feel so important each year. I feel like we're trying to make things better for people who need some sort of hope. That's what St. Jude is.
How do you think it will feel when you finally hit $1 million?
It'll be an accomplishment, I'm not saying it's not. But it's not the end point. It's just a mileage marker, if that makes any sense. I don't see this ending anytime soon.
The committee and I will celebrate, and then we'll talk about how we're going to get to the next $1 million.