Meet Dean: 90-year-old Dean Troutman's walk to benefit
St. Jude

kids
One day, 90-year-old Dean Troutman from Princeville, Illinois, got the idea to walk more than 3,000 miles to help St. Jude kids.
"I wanted to make it big. You know, the bigger the walk, the more donations."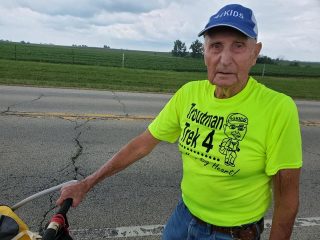 If he could. If his legs held out.
So this July, he loaded his bright yellow walking cart with a few things he'd need, including his Rand McNally maps, a Patsy Cline tape and a photo of his late wife Peggy from their 65th wedding anniversary.
He tucked her photo under protective plastic on top of the cart. That way he could look down and talk to her as he walked. Their love for each other and the delight she took in children – "she always liked kids, you know. And I did, too" – had given them many happy days surrounded by family.
He knew the rest would be provided, somehow.
His family set up a Troutman Trek 2021 Facebook page so supporters could follow along with Dean as he walked.
His son, a volunteer firefighter, made calls to the local firehouses along Dean's route. Each pledged to help Dean by giving him a warm meal, a cot to sleep on, and maybe the most important thing – some company.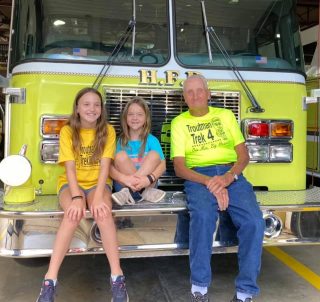 Because Dean loves people. That's why he started this thing in the first place.
It's a quite a story, a 90-year-old man casting off his own personal comfort for a walk that would be lonely at times, all to honor the woman he loved and to help the sick kids at St. Jude.
Here's a secret: Dean never thought he'd make 3,000+ miles. "I said all along, I wasn't sure I could even get out of Peoria County or the state of Illinois. …I told people, 'I may not get 50 miles, but I'm going to go as long as these old legs will carry me.'"
Maybe we should all be like Dean. Have a dream that's a little out of reach. Reaching for it anyway.
He knew good things would happen for St. Jude if he took that very first step.
On July 10, he set out on his trek, and he walked 24 days through heat and sometimes rain and with semis whizzing by. Past miles of cornfields and the occasional group of children chanting, "Go, Dean! Go, Dean! Go, Dean!" Complete strangers often walked alongside him, just so he would have a friend.
"I met awfully nice people in every town I went to, just the greatest."
He slept on firehouse cots or in people's guest rooms.
"I never in the 24 days, I never had to sleep out in the timber or cornfield. I never slept outside one night."
More than 4,000 people began to follow Dean's Facebook page. Each day when his son posted an update on Dean's behalf, the Facebook page lit up with hearts and comments and questions and well wishes, and sometimes, worry.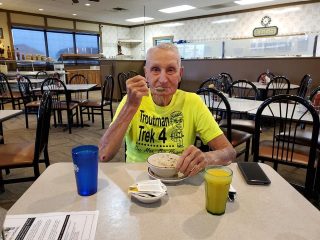 And then on Aug. 3, near the border of Indiana and Ohio, 310 miles into Troutman's Trek, Dean's ankles got swollen to a point that a paramedic took a look and told Dean not to walk another step.
"I just felt like the world had dropped out from under me."
So Dean went home, and he rested, and he thought about what he'd done wrong.
"I felt like when I started back home, the thing's over, the donations will dry up, and that's it."
But Dean, who doesn't do Facebook, who hasn't read any of the dozens of news stories about him, had no idea what was happening online.
The supporters he'd marshalled didn't want to stop. They pledged to go the distance for Dean by walking in their own communities. To help him meet his $75,000 fundraising goal.
Troutman's Trek wasn't ending. It was just getting started.
The people he'd tried to inspire with his journey – well, now they were inspiring him.
Dean's ankles went back to normal, and he got a clean bill of health. His family announced a new Troutman's Trek – a scaled-down version of the original one.
"Somebody said we were around $40,000, but I hope that's just a fraction of what we end up with."