No kidding, this superhero's for real
Children's book 'Super Thatcher Fights Cancer!' tells the courageous true tale of a young St. Jude patient.
When Thatcher's classmates wondered about his absence from preschool, they naturally had questions. But how do you explain neuroblastoma — a very rare type of cancerous tumor — to a class of 4-year-olds?
The answer is Super Thatcher Fights Cancer!, a children's book written by two close family friends who are authors, with illustrations by a paraprofessional at Thatcher's school. It tells the story of a heroic little boy and his courageous battle with cancer at St. Jude Children's Research Hospital.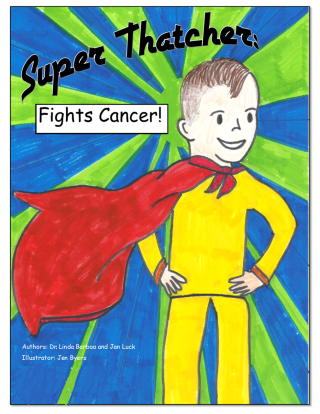 "His friends were curious. We set up several video calls so they could actually see Thatcher at the hospital," said his dad, Kendal. "So the idea just kind of came about, well, let's make a book, so they can see what Thatcher goes through in a day."
In the story, Thatcher faces many months of treatment, and sometimes feels too tired to do anything but sleep. But a St. Jude therapy dog is by his side when Thatcher has an MRI. He also gets to ride through the hospital in a red wagon, play music with the music therapists and have occasional visits from his little brother, Gideon. And his parents, Kendal and Lindsay, are always there for him.
"We wanted to have three goals — one, to raise money for St. Jude; two, we wanted to honor Thatcher for the brave fight that he is fighting; and three, we wanted to teach other children about what the children go through at St. Jude," said Dr. Linda Barboa, who created the book with co-author, Jan Luck, and illustrator, Jen Byers. They donate funds from the book sales to St. Jude.
Unlike the typical superhero story, this one's true — really. All the way down to Thatcher's super powers: being brave, strong and happy.
That's all the more amazing considering Thatcher — now 5 and attending virtual kindergarten — has faced chemotherapy five times, a 10-hour surgery to remove as much of the tumor as possible, two bone marrow transplants, radiation and now immunotherapy, with multiple stints in the intensive care unit along the way.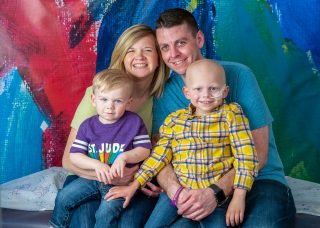 "He's a strong guy. He's doing incredible," Kendal said. "I think with his attitude, and outlook on everything, that has been a saving grace that's really carried him through this. He doesn't see himself as being sick.
"He loves St. Jude. All his nurses and doctors, he sees them as family. He looks forward to going there."
And why not? St. Jude is filled with superheroes, and superheroes like to stick together.