We're grateful for: Tina Marshall, who helps coordinate
St. Jude

Sunday of Hope campaigns
Tina Marshall is grateful for the example set by parents who went into the community to give back with their eight children in tow. Service was already part of her life when a chance meeting with a grieving father at St. Jude Children's Research Hospital truly connected her to the mission.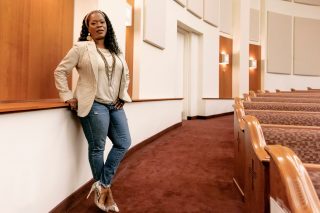 "He began to speak about the difference that St. Jude had made in his life," she said. "One of the things he said to us was St. Jude and the staff of St. Jude had made it the most memorable experience for him and his family and his child."
Tina held onto that memory, taking it back to Sayreville, New Jersey, where she helps coordinate St. Jude Sunday of Hope programs across the state. With the memory of that father in her heart and mind, she's helped raise more than $500,000 and connected upwards of 30 churches to the St. Jude mission.
"The secret to the success," Tina shares with volunteers and coordinators, "is understanding the faith-based sector. It is a sector that is very personable, very friendly and very giving."