We're grateful for: The Velasquez family, who works to improve the health of a city that once saved their son
Pedro Velasquez's treatment at St. Jude Children's Research Hospital was not easy; oncologists on the Memphis campus would spend two and a half years trying to eradicate the aggressive T-cell variation of acute lymphoblastic leukemia he had.
Through it all, Pedro and his family, who were referred to St. Jude by doctors in their native Venezuela, remained hopeful. In fact, they put down roots here: St. Jude became family and Memphis became home.
Pedro reflects on the treatment he received, and the generosity of "complete strangers" who donated to St. Jude and helped save his life.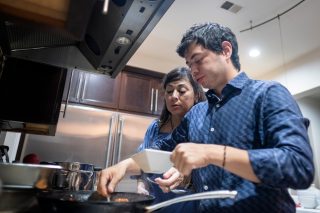 "I feel a duty to do something to give back, make a difference with the life I've been given," Pedro said.
The Velasquezes knew exactly what to do to give back to the city that had allowed their family to stay complete . As a faculty member and physician at the University of Tennessee Health Science Center and later LeBonheur Children's Hospital, Pedro's father saw first-hand the toll obesity was taking on minority populations. Now the family, who are marking their 24th year in Memphis, run a network of non-profit clinics and pharmacies to treat and prevent obesity, diabetes and other related conditions in the most underserved, low-income corners of the city. Every year, they treat more than 35,000 patients, lifting up the health of a community that saved their son two decades ago.
Pedro, now 30 years old, is the executive director of the clinics and drove the effort to establish their non-profit status. He is leading a plan to expand the clinics into 11 more underserved neighborhoods over the next 5 years.
"Compassion influenced my parents' decision to stay and give back to the city and the people that showed them so much kindness," he said. "And it's what drives me, too."