We're grateful for: Volunteer Henry Hanten who goes the distance for his favorite cause
There may be no limit to the lengths Henry Hanten would go to help the kids of St. Jude Children's Research Hospital. But we know the number is north of 50,000 miles. That's how far he's traveled while volunteering at Country Cares for St. Jude Kids® Radiothons over the last 30 years.
"It is over 50,000, they say. I've got 92 radiothons in. I need eight to make 100," Hanten said. "Snowstorms, rain. You name it, I've been through it."
As the lead volunteer coordinator for several radiothons spread throughout the Upper Midwest, this South Dakota resident has traveled some 2,500 miles many a year to raise money and awareness for a cause that's close to his heart.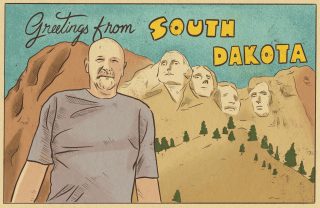 "When I was 19 years old, St. Jude saved my life," said Hanten, who was treated for cancer as a teenager by a Minnesota hospital using protocol from St. Jude, which freely shares its research so other institutions can benefit from its treatments and discoveries. "That's when I started researching St. Jude, to see what it was all about, and got involved."
So, come radiothon season, Hanten gasses up his baby-blue truck and goes — to Rapid City, South Dakota, and to Minneapolis, Duluth and Mankato, Minnesota. "I plan on doing it until my body won't let me do it anymore," he said.