Finding hope in the waiting: One family's experience during trying times
St. Jude mom Catherine describes how her family coped when life was put on pause by her daughter's cancer treatment, and how she used their time of waiting to dream and plan for the future. It's great context for those of us in COVID-19 isolation.
St. Jude mom Catherine describes how her family coped when life was put on pause by her daughter's cancer treatment, and how she used their time of waiting to dream and plan for the future. It's great context for those of us in COVID-19 isolation.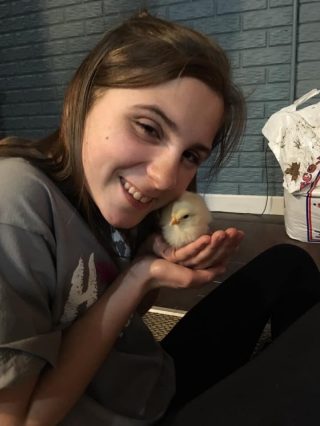 At a time when people are engaged in countless acts of generosity to help one another through the coronavirus pandemic, I can look back on the origins of our community garden benefiting St. Jude Children's Research Hospital and see how it, too, sprouted from a difficult experience.
We spent about nine months at St. Jude after my daughter Grace was diagnosed with acute myeloid leukemia on July 19, 2011, when she was 7 years old. That translates into approximately 255 days or 6,120 hours at the hospital.
Over time, there was one thing we became good at: Waiting!
Waiting on test results to understand her diagnosis.
Waiting until the next chemo treatment.
Waiting until she was eligible for a bone marrow transplant.
Waiting to go home.
All that waiting. It was excruciating at times.
But somewhere along the way, we began to feel hope.
To use a gardening metaphor, our time of waiting was like a field left fallow so the soil can restore itself, gathering nutrients so something new can grow.
Or, you could say this period of waiting was the time it took the flower of hope to grow from seed. Above the ground, it looked like nothing was happening, but hope was just underneath, already alive, almost ready to burst forth and bloom.
And to extend this metaphor, you could say that this seed of hope was planted the moment we walked into St. Jude. Although we didn't realize it at the time.
Because when we first got to St. Jude, there were so many children fighting for their lives that it was overwhelming. How could this many children be so sick?
But as we walked the halls, our attention turned to the brightly painted walls and artwork done by the patients. We noticed the craft activities set up to give the children something fun to do between appointments. As the parents stood in the background, smiling at their children, the children themselves were lost in the excitement of creating something new.
I didn't really understand it at first. How can these families be so happy? I wondered. The longer we were there, however, the more we began to see that we had to make the most of each day, live in the moment and find our joy.
So that's what we did. In between appointments and chemo treatments, we would have dance parties, make lots of artwork, play video games and just 'be' together. And soon, we began sharing smiles of hope with others as we passed them in the hallways.
If we had only focused on the tragedy of the situation, we would have missed out on moments that have become memories we will treasure for the rest of our lives.
During treatment, we received many phone calls from our friends and family, offering to help in any way they could. Since we still had three small children back home, our family needed all the help we could get!
I cannot begin to list all of the favors given to us, but I can tell you the help we received from family, friends and neighbors made our situation much less stressful and easier to handle.
As time went on, we knew we wanted to do something to give back not only to St. Jude, but also to our entire community, for all the support we received. We knew it would be impossible to pay everyone back for all they had done for us, so instead, we decided to look for ways to help others in the community who might also be in need.
A few months before we came back home, one of my neighbors, who knew I loved gardening, offered to let me build my garden on her unused acre of land behind my house. I was so excited at the offer. My mind raced with endless ideas of what I could plant on an acre of land. The longer I thought about it, the more I realized the soil itself could become an opportunity to "pay it forward." And that's when we decided to build a community garden.
For the next few months, we drew up several sketches of what the garden would look like. Ultimately, we decided to make it in the shape of the St. Jude silhouette.
To make it as healthy as possible, we decided to grow fruits and veggies without any chemicals and make them available to anyone in our community. In return, any donations we received would be given to St. Jude. And although our generous neighbor offered her property, we decided to build it on our own land because our plans were growing by the minute!
In fall 2015, my girls and I started to build the raised planter boxes. Little by little, the shape came together, and by the summer of 2016, we opened for operation.
Because we are building everything with our own hands, we still have a long way to go. So far, we have raised approximately $8,000 for St. Jude and have fed hundreds of people in our local community.
I love the fact that we can do this together as a family. And we can because Grace is here today. She got well.
Over the last few years, the garden has brought our community together in ways I could have never imagined. From neighbors to youth groups to sports teams to churches, we have been blessed with so many amazing volunteers. We are now visiting local schools to teach students about gardening, and we provide them with heirloom seeds from our produce to grow their own plants. We've even hosted some field trips for these students to come and plant their seedlings at our garden.
Last year we started preserving all the surplus by drying, canning or freezing, and we gave these away in exchange for donations, as well.
We are excited about our endless possibilities to help St. Jude and our community. It means so much for us to be able to take a tragedy and turn it into something good.