Looking Back, Pressing Forward During Childhood Cancer Awareness Month
Paula Head is a senior philanthropic advisor who works with patient families for ALSAC, the fundraising and awareness organization for St. Jude. Her daughter, Carson Elizabeth, was treated for osteosarcoma at St. Jude.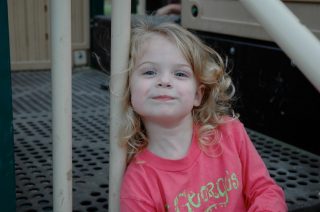 September is Childhood Cancer Awareness Month and as it comes to a close, I can think of no better time to reflect on how far we've come in understanding, treating and defeating childhood cancer and other life-threatening diseases. Thanks in large part to St. Jude Children's Research Hospital, the overall childhood cancer survival rate has increased from 20 percent to more than 80 percent since St. Jude opened more than 50 years ago.
But, when your child falls into the other 20 percent, then that percentage is no longer acceptable.
Our youngest daughter of three, Carson Elizabeth, was the bravest, most tenacious hero I have ever known. She was diagnosed with osteosarcoma on March 7, 2014, the day before her 8th birthday. She fought a long and courageous battle for 16 months before she flew to heaven to forever have her beloved tea parties with no more pain and suffering.
Carson taught me more in her short life than I could have ever taught her.
When she realized her life was drawing to a close, she asked her dad and me to make sure that the money in her piggy bank went to St. Jude because she knew that every single penny counted, and it just might be her own pennies that helped find the cure to end childhood cancer.
I think we would all agree that no child should have to endure what Carson Elizabeth endured — one limb-sparing surgery, two lung thoracotomies, one surgery to completely move her heart over to get to the cancer growing behind it, three more surgeries, 36 weeks of chemo that she never got to finish and multiple rounds of radiation.
Instead, I like to think that Carson can be the hero for all of us, and the reminder that a cure for childhood cancer CAN be found in our lifetimes.
Every single day of the year — seven days a week, on weekends, birthdays and holidays — a new family walks through the doors of St. Jude for the first time, having just heard the words 'your child has cancer.'
Once a parent hears those words, they never really stop ringing in their ears. I hear 'your daughter has cancer' over and over in my mind, every day. When I first awake, in the car, in the shower, when I lay down, when I eat.
There is no amount of training to prepare a mother for the words: 'your daughter has cancer.' It's like getting thrown into a race that has already started without you; a race with no training, no equipment and one that you're not even sure which way to run.
No family should have to bury their own child, or endure their child's odds of survival being 80/20. That's why I won't rest until the childhood cancer survival rate is 100 percent, and it's why I run: to focus on the future treatments and cures that will lead to the end of childhood cancer, so that no parent will ever again have to hear the words, 'your child has cancer.'
This month, in communities all over the country, parents and families will join me as we collectively lace up our shoes for the St. Jude Walk/Run.
But in reality, this is far more than a fun family run. It's for the new families who will walk through the doors today, tomorrow and the day after that, praying for a miracle. And it's for families like ours who lost a child, but who hold on to the hope that cancer will end in our lifetime.
For me, I'm in a race that won't end until the childhood cancer survival rate is 100 percent. This Childhood Cancer Awareness Month, I hope you'll join me for the next lap. "Run with the faith of a child, so that one day all children will cross the finish line." I will be there running to cross the finish line since my sweet Carson Elizabeth never got to finish her race herself.