We don't have our "normal" back. But we have our son.
After successful cancer treatment, we couldn't wait to move on. Then came COVID-19.
After being blindsided by her young son's cancer diagnosis, and 18 months spent nursing him through treatment, Christina felt like her whole family was on the verge of getting back to normal. Then came the coronavirus. Here is her account of what she went through, and how she's coped.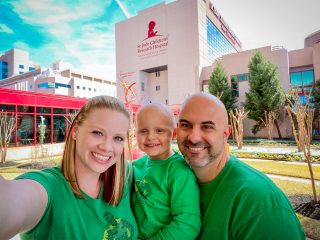 Do you ever find yourself thinking back to when things were "normal," and wishing you could return?
Me too.
But to return to "normal," our family would have to go back further than the 2020 start of the COVID-19 pandemic. We'd have to rewind to August 29, 2018. The day before our youngest son, Caleb, had the seizure.
It wasn't what I thought of as a seizure. He just went blank, dazed and staring. Our Caleb is kind of a ham, and at first we thought he was fooling around. Then we called 9-1-1.
Several days later, we knew these things for sure: There was a peach-sized tumor in our 3-year-old's brain; it was a type of cancer called atypical teratoid rhabdoid tumor (ATRT); and when August 29 came and went, it took our nice, normal, "easy" lives with it. There would be no going back.
My husband, James, and I decided to seek a referral to St. Jude Children's Research Hospital. Within days, Caleb was accepted as a patient, and we were headed to Memphis.
At St. Jude, he began a treatment protocol of proton therapy and chemotherapy that would wind up lasting 18 months. The finish line kept slipping a little further off as, again and again, Caleb spiked a fever, or his blood counts were slow to bounce back. His little body was fighting so hard. There were times he did very little, mostly sleep or watch movies. It hurt my heart to see him too weak to play. This little boy who used to love T-ball and bowling and soccer now had to lie down after 15 minutes with building blocks. It was scary. But every time, his doctors were confident he would recover soon. And they were right.
We just had to wait it out.
And now here many of us are again, waiting it out. Some of us staring through the window at the outside world like I did all those nights in the hospital with Caleb, waiting, wondering, worrying. It's lonely, it's hard, and there are days when you wonder if it's ever going to end.
It's a struggle to accept that your life is forever changed by something you can't control.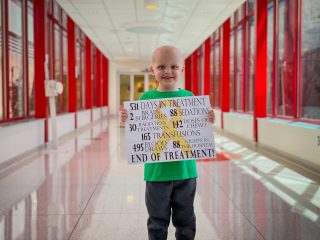 With the onset of the pandemic, I found out I had to grieve the loss of the normal life I'd been holding my breath to have back. Caleb was about to return to school, and I was going to figure out my next career move. I'd been waiting 18 months to have something like normal back and now, because of COVID-19, I would have to wait some more. When that realization hit me, I literally sat down and cried. But I slowly came to acceptance. Just as I'd had to accept the news of my child's cancer diagnosis, I have to accept and understand there are bigger things than me and my plans happening in the world right now.
So I focus on the things I'm grateful for. That our boys are back together after time apart during Caleb's treatment. That we're in our own home after so many months in an apartment provided by St. Jude. That I have time to finally unpack the moving boxes that haven't been opened since before Caleb's diagnosis!
As I began to help with my kids' remote learning, I felt grateful for the example set by my own mom, who has taught students for 30 years and is the most amazing teacher I know. I've done what I did in the early days of Caleb's treatment, when the future was so uncertain: Dry my tears, put myself back together and do my best to stay encouraged during discouraging times.
We just passed the two-year mark of Caleb's diagnosis. The social media memories have been popping up, and seeing these photos again, I feel like we're just beginning to process it all. We are more grateful every day for St. Jude and for Caleb's second chance in spite of a terrible diagnosis.
Maybe we can't have "before" back, but I know it can get better.