4,700 miles to hope: One military family's journey to
St. Jude
Griffin was diagnosed with pediatric cancer while his family was stationed abroad. They turned to St. Jude for help.
When an American military family stationed in Germany learned on Veterans Day their son had cancer, they had hours to figure out what to do next. This is their story, as told by Griffin's mom, Jennifer, on the anniversary of his leukemia diagnosis.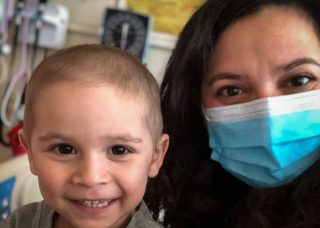 As an Air Force family stationed abroad, we joke that we collected each of our three children on a different continent: Vivien was born in Texas, Benjamin in Germany and Griffin, our youngest, in South Korea.
In Korea there's a tradition called doljanchi that's celebrated on the child's first birthday. Part of the custom involves placing some common items in front of the birthday child and whatever they grab first is said to reveal something about their future. We did a doljanchi for Griffin and he picked up a toy stethoscope. Did that foretell good health, I wondered, or that he'll be a doctor? I think I can now say that while not experiencing good health, our little boy is in an intense and lengthy medical apprenticeship … as a pediatric cancer patient whose treatment will last nearly three years.
We were stationed in Germany when Griffin was diagnosed with acute lymphoblastic leukemia on Veterans Day 2019. The local hospital said he absolutely had to start chemotherapy within 48 hours and we had to decide where that would happen without delay. We had to figure something out fast. Unfortunately, there was little cellphone service and no Wi-Fi in the hospital, so we were literally hanging out a window frantically researching, looking for options. Our biggest thing was, we wanted to get back to the United States. Even after eight years abroad, that's our home at the end of the day. When bad things happen, you want to go home.
Griffin was accepted as a patient at St. Jude Children's Research Hospital, and 12 hours after diagnosis he and I were on a plane. Griffin was receiving blood products right up until the moment we left the hospital; as soon as the last drip of platelets went in, they disconnected the IV and we went straight to the airport for a 10-hour flight that got us part of the way to Tennessee.
My husband and I were both sure we were going to the best place in the world for Griffin. For so long, though, we'd been in military communities where you just step in and make friends immediately, and our kids had playmates constantly in close proximity. Were we going to lose that when we came over here? How was I going to function without that military support system? It turns out at St. Jude we are surrounded by all these people who instantly understood our struggles — just like in the military. Our fellow families are from all over the world, and we are all walking the same path. Everyone here is going through similar challenges; they understand, without having to say a word. We found a new community at St. Jude. An amazing one.
Griffin, unfortunately, still had leukemia in his bone marrow after the first phase of chemotherapy and therefore a greater chance of relapse. But St. Jude has a plan in place for this and part of it involved immunotherapy that was administered 24/7 for two cycles of 28 days via a pump carried in a backpack. At first, Griffin — who is a VERY determined little boy and who has earned the family nickname "Trash Panda" for his cleverness in wreaking havoc — refused the backpack. Then my husband had the idea to turn it into a proton pack using egg crates, a plastic water bottle and some creativity. Griffin loved it, and we got that immunotherapy into our little Trash Panda.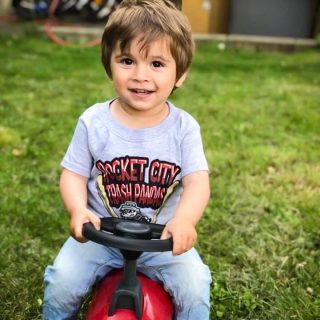 There is much, much more treatment still ahead. But I've always been an optimist. And when I look back at last Veterans Day versus now, I think we must be the luckiest unlucky people in the world.
We have so much support, and so much hope, thanks to St. Jude.