Missouri volunteer celebrates "80 years of livin', 50 years of givin'" to
St. Jude
Nancy Caldwell explains her lifetime of devotion to a specialty children's research hospital she's never needed, but loves just the same.
In a Letter to the Editor published in the Southeast Missourian on April 30, Nancy Caldwell thanked her Scott City, Missouri, community for supporting St. Jude Children's Research Hospital even during the pandemic. Here, Caldwell talks about her 50 years of support for St. Jude – and how she came to write that letter.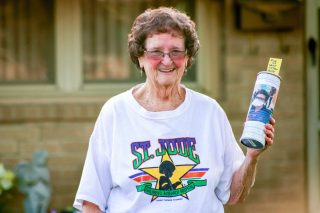 When I turned 80, I decided I wanted to see all the kids I'd taught in school down through the years and gather them for my birthday party. The old VFW hall had gone ker-thunk, and been turned into a rental hall. I asked the people who owned it, "Hey, if I throw my 80th birthday party for donations to St. Jude Children's Research Hospital, would y'all cut me a deal to use your space?"
They said, "Yes, we will." And God love 'em, they fixed it so nice.
I didn't send any invitations, I just spread the word as "80 years of livin', 50 years of givin'." And if you come, I don't want any presents. I just want a donation for St. Jude.
I raised close to $2,000. Anything I can do to help St. Jude, I am more than thrilled to do it.
Fifty-some-odd years ago, I just got inspired by St. Jude. I was an elementary school PE teacher here in our little town in Missouri when someone hit me up about doing a Bike-A-Thon for St. Jude, and I thought, "Well, that might be a neat thing to do. Yes!" That was back in the late 1960s or early '70s, and I've been supporting St. Jude ever since.
You see, I felt a connection to St. Jude. When I was teaching elementary school, I had a little third grader who passed away from cancer, the grandson of the local barber. When you live in a town of 3,000 people, it just touches you.
When I retired from teaching in '92, I thought I'd retire from Bike-A-Thon, too. But in '95 or '96, St. Jude had its first Volunteer Appreciation Day and I got to see the work of St. Jude for myself.
They gave me an extensive tour of the facilities. I was so impressed with the attitudes of the kids and the workers and everybody; I just had a soft spot for it and I thought, "You know, as long as I'm able to get around, I'll probably never say 'no' to doing work for this great organization."
In 2001, I switched to the Math-A-Thon and was in charge of that until this past school year. I didn't have any trouble recruiting workers because everybody knew Ms. Caldwell. They liked elementary PE, and if I didn't teach them or their kids, I taught their parents. We've always had plenty of involvement, and we've always done so well.
With Math-A-Thon I would tell the kids, "Now if somebody can't help you, you be nice to them because we always can't afford what we'd like to do. But if you tell people you're collecting for St. Jude and you don't go to anybody you don't know, they will give if they can."
You don't have to sell St. Jude.
People will tell you they know what St. Jude does and if there's anything in the world they'll contribute to, it's that. A lot of them wish they had more to give, so I always say, "Every little bit adds up. It helps."
I hit up the merchants to be corporate sponsors. Most of them give me $100 each and I print out certificates for them. An insurance salesman in town would take his, frame it and put it behind his desk.
We've raised nearly $200,000 for St. Jude. It's a drop in the bucket for the kids who need treatment, but it's a lot.
I'm 81 and wear down too easy these days. For the past few years I've been asking people to take over Math-A-Thon and last year the new elementary school principal said she would. I made her a promise: If she would do the school part with the kids and the computers, I would continue to go out into the community to collect the extra donations.
But of course the pandemic hit and schools and businesses closed, but I was going to keep my promise anyway. I wrote to the merchants: "I know what operating a small business is and I know you're probably having it rough, but St. Jude can't quit. They keep treating those babies and youngsters that are sick. If there's anything, no matter how small the amount that you can contribute…"
I tell you, almost every one of them gave $100 each, and that was a chunk for a small business.
Each year, I send a letter to the editor of our paper thanking the merchants that helped raise funds for St. Jude. It's an acknowledgement and a way to let the community know about their kindness. This year, that "thank you" seemed more important than ever.