Our crisis at Christmas, and how Santa found my son, even at
St. Jude
Mack had not one but two illnesses that could have killed him. Then we were sent to St. Jude.
Mack arrived at St. Jude one Christmas Eve as an extremely sick little boy who was looking for Santa nonetheless. His mother, Amanda, recounts how everything changed on Christmas Day.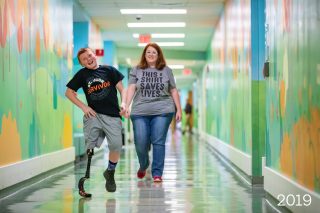 Mack wanted a trampoline for Christmas that year. It was 2014, and he was 5 years old, a wild child with a tender heart. But before Christmas came, he was diagnosed with a bone infection so bad he had to be hospitalized. He was on a lot of antibiotics, but he wasn't getting better. He was getting worse.
Most hospitals, you don't really see any doctors between Friday evening and Monday morning. Well, it was on a Saturday morning he started getting really bad. His fever was so high, we were packing him in towels we soaked in cold water. He was transferred to the ICU, and that's where they did a biopsy on the infection site and found out it wasn't an infection at all. Our little boy had bone cancer.
And he was swollen to twice his normal size, because what we didn't know yet was he also had DRESS syndrome, a life-threatening adverse reaction to the antibiotics. As a result, he was in organ failure. His kidneys weren't working, his liver was shutting down.
With the cancer diagnosis, we were sent to St. Jude Children's Research Hospital. He was so sick he doesn't remember much about that time, but he remembers the air ambulance. It was storming so bad, that flight was like a roller coaster. He thought it was awesome. I thought it was the end. Every light Mack saw out in the gloom through the airplane window, he thought it was Santa's sleigh, because it was Christmas Eve, and Santa flies no matter the weather.
That Christmas morning was our first of many, many mornings at St. Jude. I remember all these doctors came in to see us on Christmas Day, and how encouraged we felt when they said, "We will be with you every step of the way." Mack himself was more impressed that Santa found him and paid a visit. Santa brought so many presents, too, and sick as he was, Mack labelled the ones he wanted to give to each of his siblings and set them aside and said, "Mom, are you gonna be able to get these to them today?" I said, "No, baby, it's gonna be a while." How long was a question I could not have answered for the world.
Within 24 hours of being off the antibiotics, Mack's condition started to improve. He began chemotherapy in January, but they had to be cautious because he had organ damage from the DRESS syndrome. At 5 years old. It's kind of crazy, looking back. Before it was all said and done, he'd had vincristine; etoposide; ifosfamide; doxorubicin, the one they call the red devil; and one that starts with a C that for the life of me I can't remember. Ewing sarcoma is such a horrible cancer.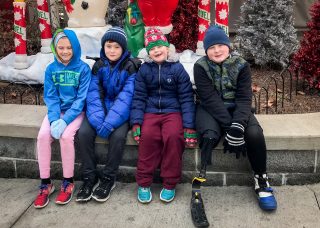 And Mack had it in a horrible place. It was both above and below the right knee. As a family — and I mean also our St. Jude family, because we've had the best doctors and nurses and Child Life specialists ever, I swear — we talked about treatment options going forward. And we talked to him, at 6 years old, because we're all going through it, but it's happening to him, not us. He said, "Mom, this leg is sick. Chop it off." Amputation was not the only option, but it was the option his dad and I chose based on our belief it was the best thing for his particular circumstance.
After the amputation, St. Jude made sure he got the physical therapy he needed to recover and learn to use his prosthetic leg. Our physical therapist, Brian, deserves a medal. He played hockey for thirty minutes a day every day with Mack. I mean, pucks were sliding everywhere. And it worked so well to get Mack where he needed to be. Mack's extensive physical therapy meant we spent a second Christmas at St. Jude, and now we were in a position to fully embrace it. Oh my goodness, it was like the North Pole. Every day they had something going on for the kids. Mack's siblings would come stay with us one at a time. He would always make a Christmas craft for himself, and one for the siblings who weren't with him at the time. He's such a sweet child.
Back to Christmas 2014. We had already gotten him that trampoline he wanted. The kids use it all the time, still. They have customized it with basketball hoops — they have really made it their own.
Mack went from a happy 5 year old to barely moving. He went through two illnesses that could have killed him, and for a while he went through them at the same time. And now Mack is almost 12 years old, and he runs, he plays sports, he jumps out of trees, he does it all. We know too well that life is short, so we let him.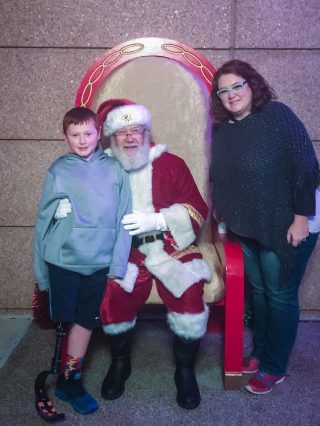 Sometimes it feels like just yesterday, and other times it feels like a thousand years ago, but every Christmas for us is strange, because we remember that Christmas we weren't all together, and why.
We always take Dec. 23rd, the anniversary of Mack's cancer diagnosis, and we set it aside for us as a family. We stay home and do Christmas crafts together, make candy. People might worry about the perfect present or the perfect decorations or whatever it is, but take it from me: The most important thing is being together.