From
St. Jude

patient to

St. Jude

supporter

A diagnosis of Ewing sarcoma at age 12 could have put Philip Aiken on the bench for good. But as he explains, his determination to run back into life helped him discover a new strength through purpose.
A diagnosis of Ewing sarcoma at age 12 could have put Philip Aiken on the bench for good. But as he explains, his determination to run back into life helped him discover a new strength through purpose.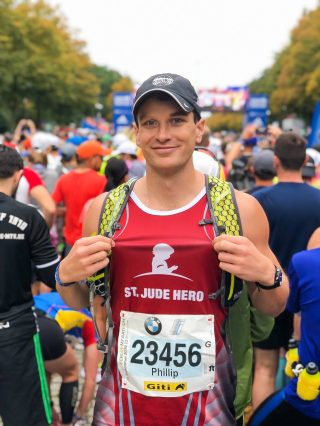 A common question people ask when they learn I had cancer as a kid is, "How did you know? How did you find out?"
To be honest, the early symptoms and numerous doctor visits that led to my cancer diagnosis are a jumbled mess in my memory. But I do clearly remember a few important moments from that summer of 2006, as my ability to play sports was suddenly taken away.
Growing up, sports were a big part of my life — basketball, football, lacrosse — there was a sport for every season. Because I was tall for my age, basketball was an obvious choice to focus on during elementary school.
I clearly remember the family dinner when my parents first noticed my eye looking strange. It was the summer before sixth grade, and after a long day at the pool, my dad asked why I had a black eye. Unaware that anything was wrong, I responded that I didn't know and it didn't hurt. My dad made an offhand remark about too much roughhousing with friends and, being 12, I thought nothing else of it.
The week before going to Duke basketball camp, my right eye looked even worse. An ear, nose and throat doctor concluded it was a severe sinus infection, so my mom sent me off to Raleigh, N.C., with antibiotics and nasal spray. The chance to learn from the great Coach Krzyzewski was the only thing on my mind at that time.
Cut to a few weeks and another sport later, at my second football practice of the season. My dad picked me up early with news of the biopsy results. Again, me being 12, I asked if I'd be able to return to football practice the next day.
When my dad responded that I wouldn't be playing football for a while, everything began to come crashing down. I remember life as I knew it ending: no more sports, no more going to school every day, no more camps, no more having the energy to go outside and play with my dog; in effect — no more playing at all.
My new opponent was Ewing sarcoma, a cancerous tumor that grows in the bones or soft tissue around bones. Mine wedged itself in my right eye bone.
My treatment at St. Jude included nearly a year of chemotherapy with daily radiation treatments for six of those weeks. The following summer I celebrated my "No More Chemo" party and turned 13 in the same month.
Recovery from cancer treatment was about adjusting to regular life, which was quite a curve ball to throw into early teenage years. By that point, I wasn't playing basketball anymore. Because my growth had been stunted for nearly two years, I was no longer the tallest kid on the team.
Meanwhile, my dad, who is one of the more charitable people I know, began thinking of ways to give back to St. Jude, the hospital that saved my life. He started a team for the St. Jude Memphis Marathon Weekend. He had the perfect personality for building momentum around our team, which he called "Memphians for St. Jude." That year, 2008, we were the top fundraising team, raising over $40,000.
Later, he encouraged me to start my own team. My junior year of high school, I started a fundraising team for my school, and I ran the 5K. I had never been a great runner, but I felt like if I was the one leading the team, I needed to step up and commit to a greater challenge, so the following year I signed up for the half marathon. Over those two years, our team wound up raising $65,000.
Training was tough, because I was far from running shape when I began. I had to work my way up to being a distance runner, and I wasn't even very good. But giving back to St. Jude gave me a sense of purpose, and I remembered who had saved my life as I trained.
Cancer affects every single part of your life, but I often think of my experience with cancer — from diagnosis to recovery — as a story of athletics. The jarring shock of losing daily sports practice, a year of longing to be active and to play on a team, a recovery process focused on regaining the ability to play and, finally, finding a way to give back through exercise.
In 2012, I became a St. Jude Hero, participating in my first half marathon at 18.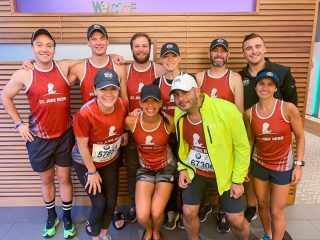 Since then, I have participated in the St. Jude Memphis Marathon Weekend, the Bank of America Chicago Marathon and the BMW Berlin Marathon. My goal is to run all six of the major marathons — Berlin, Boston, Chicago, London, NYC and Tokyo.
Crossing finish lines and getting medals are great, but the reason I run involves much more than that. The fact is I'm very lucky to be alive, and that is due to nothing that I've done.
Because of that, I feel an unconditional and eternal thankfulness to St. Jude for the year that it took care of me. From the research that made my treatment possible, to my doctors' efforts to not only treat me, but to be my friend, down to the encouraging, ever-positive attitude of the night nurses, the front-desk ladies, the cleaning staff — this place is one of unique love and care.
The people who make up St. Jude have a devotion unlike anything I've ever seen from a group of people working toward a common cause. In the years that have passed since I was a 12-year-old patient, my appreciation and respect for their devotion has only increased.
As a St. Jude Hero, I have the unique advantage of being able to make a difference by sharing my experience.
St. Jude saved my life, so I have to do everything I can to keep them able to save other kids' lives.