We're thankful we can still see mom - even if it's only through a window
Taylor Johnson, a regional manager for ALSAC, the fundraising and awareness organization for St. Jude, reflects on how a nursing home worked to keep her family connected to her mother during the COVID-19 lockdown.
Taylor Johnson, a regional manager for ALSAC, the fundraising and awareness organization for St. Jude, reflects on how a nursing home worked to keep her family connected to her mother during the COVID-19 lockdown.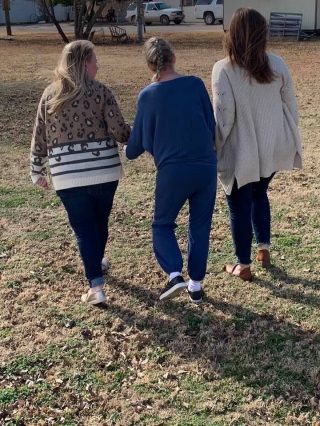 At a time when everyday life is completely upended, you tend to worry less about the things you can't do anymore than about the loved ones you can no longer visit. In my family, all thoughts have been about mom.
My mother, now 62, was diagnosed more than five years ago with early-onset Alzheimer's disease. Last May, she moved into a nursing home specializing in cognitive disabilities because she had gotten to the point where my sister, my husband, my dad and I were no longer able to manage her care.
She adjusted really well to her new surroundings, and we made it our family goal to never let more than a day go by without somebody visiting her. We held true to that goal, too, regularly coming over to see her, often picking up ice cream for her at her favorite shop along the way.
Then came the COVID-19 pandemic and all of its life-altering disruptions. In mid-March, the nursing home announced that no visitors would be allowed until further notice. This was followed by our governor imposing a statewide ban on visitors to nursing homes in effect through at least April 30.
It was all really hard for my family to swallow because mom, in addition to being a nursing home resident, is on hospice care. It's not like death is imminent, but we've been told that she probably doesn't have a whole lot longer to live. She's in the advanced, final stages of Alzheimer's.
The ban on nursing home visits could have been traumatic and painful for our family – if not for the extraordinary compassion shown by the staff at mom's nursing home. They have gone to great lengths finding unique and creative ways to help us see her and talk to her during this time that we're unable to visit.
Every day they send us pictures and videos of her, letting us know what she's doing and how she is. They arrange FaceTime calls so that we can look at her, talk to her and see her as much as we can. They have even arranged for us to go onto the nursing home grounds and sit outside mom's room, talking to her on the phone while she looks at us through her window.
At this stage of her disease, mom can't pick up a phone and call, and she can't carry on a conversation, either. She's far past that, so just being able to see her has been helpful.
As if all of that weren't enough, staff members have been kind enough to get her that special ice cream on their way in to work. We've offered to send them money so they get repaid for buying her these treats, but they said that it's one way they can help love and serve our family.
We feel so blessed because we know how much this special care helps mom. Sometimes, on days when we haven't FaceTimed yet, the staff will tell us she's been sad or emotional. Then we'll jump on FaceTime, and afterwards they'll tell us that her mood changed or she was smiling more.
When we talk with her and tell her, "Mom, we love you and miss you, and hope we can see you soon," she'll kind of stutter and then find the words to say, "I love you, too."
The staff will send us videos of when they bring mom her favorite ice cream, and her eyes light up. She associates the ice cream with us, and she'll say, "Mmm, this is good."
It's no stretch to say the compassion shown by these nursing home workers reminds me a lot of St. Jude and the extraordinary care it provided my sister after she was diagnosed with acute lymphoblastic leukemia in 1996.
Back then, mom was such an incredible patient parent, staying with my sister the entire two and a half years she was at the hospital and always telling her, "You will survive this, and we will fight this, and you're going to be OK." My dad always said, "St. Jude, God and my wife are what saved my daughter."
It's been hard for me to grasp that she was such a fierce caretaker for my sister, and now she has to have somebody be her caretaker. My sister is 28 years old and a pediatric nurse here in Oklahoma. She has swapped roles with my mom, which has been kind of hard and beautiful to watch at the same time.
Being family members, we're of course eager to help mom in any way we can. But we've been very blessed and thankful for the compassion shown by the nursing home staff at a time when we're unable to visit. It's helped us have a little bit of comfort knowing that she's not just being cared for, she's being loved.