We celebrated the 'milestone miracles' with our daughter at
St. Jude

until she was declared cancer-free

Kenneth R. Lewis' daughter, Lauren, was treated for stage IV neuroblastoma at St. Jude in 2005. She graduated high school last month and is preparing to attend college in Alabama this fall.
Kenneth R. Lewis is a pastor and an assistant professor of practical theology in Memphis. His daughter, Lauren, was treated for stage IV neuroblastoma at St. Jude in 2005. She graduated high school last month and is preparing to attend college in Alabama this fall.
A father knows no greater happiness than seeing his children full of life and joy. Those hopes seemed dashed when our daughter Lauren was diagnosed with an aggressive, difficult to treat cancer when she was just 17 months old.
In July 2005, we noticed Lauren struggled to walk. Little did we know that struggle would be the beginning of a greater battle. A visit to the emergency room and a subsequent visit to our local pediatrician led to the discovery of an abdominal mass.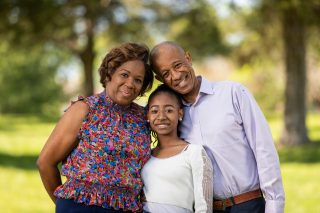 When I received the call from the pediatrician, I sensed that the news was not good. After rushing to the hospital and meeting with the pediatrician, her decisive and direct recommendation was to for us go to St. Jude Children's Research Hospital.
"St. Jude would be the best place for you," she told us.
On our arrival at St. Jude, we encountered a team well informed, prepared, and mobilized to attend to Lauren's health needs and our family's social needs. After a series of examinations, we were told that Lauren had stage IV neuroblastoma, a cancer of immature nerve cells in the sympathetic nervous system. We were heartbroken and dazed while caught up in the whirlwind of these turn of events.
My primary concern as a father was for the health and well-being of Lauren. Secondarily, I was concerned about the overall well-being of our family: Benita, my wife; and my other daughter, Kennedy. At the time of the diagnosis, we lived in Alabama, more than four hours from St. Jude's campus in Memphis. How would we stay together during this time in which we so desperately needed each other? I had work responsibilities to provide for our family. I also had church responsibilities in serving our family of faith. In a time like this, my priorities shifted in the throes of this turbulent event.
As we embarked upon this journey, a light of hope would begin to shine through the dark cloud of our situation.
The doctors at St. Jude professionally and patiently explained the treatment options. I was becoming more confident that this was truly the best place for us in this crisis. We had world-class medical care for our child. We would be able to maintain our family unit through this ordeal. I would be able to stay with my family the entire time while working remotely for my employer. My fatherly concerns could be focused on Lauren's health while other matters were covered.
It was a trying but memorable journey for us. We recall celebrating the "milestone miracles," one being Lauren learning how to walk again. We remember the most exciting one of that gratifying but triumphant declaration of "cancer free." For me to be there every step of the way was a blessing beyond measure.
As a father, I take seriously my God-given charge to protect and provide for my family. When your child's health is jeopardized, it can impose a sense of being helpless and even hopeless, the antithesis of faithful fatherhood. But St. Jude inspired hope and provided help, thus lessening some of the pressures of our predicament.
I often tell my family that the greatest Father's Day gift is just to have everyone together for the day. St. Jude has allowed me to enjoy the gift of our family together for these special days throughout the years. For such a blessing, this Dad is eminently grateful.