Meeting Chadwick Boseman at
St. Jude

gave me strength during brain tumor treatment

Patient describes an unexpected delight: meeting a compassionate star who the world knows now understood her plight as a cancer patient.
When Black Panther actor Chadwick Boseman succumbed to cancer Friday, the world mourned, including the families at St. Jude Children's Research Hospital. In this first person account, Zoe, 22, describes her meeting with Boseman at St. Jude in 2018 while undergoing treatment for a brain tumor.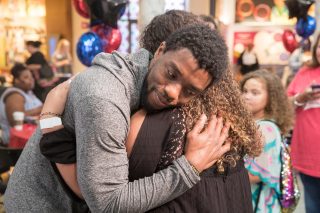 The Black Panther movie party that St. Jude set up in the Pavilion that day with face painting, snacks and activities looked amazing but we didn't know anyone from the movie would be there, and to be honest, I was dragging my feet. I felt so tired and didn't want to go to my radiation treatment.
It was 2018 – the hardest year of my life.
Then Chadwick Boseman walked in and lit up the room.
This past Friday when we learned he'd passed away, it shocked and saddened my family and so many others at St. Jude. As a movie hero, he had inspired us; as a St. Jude supporter who took time to visit us, he had come to feel like a friend who cared. Knowing now how well he understood what we were going through makes his loss feel personal and profound.
It's almost unbelievable he was able to keep his cancer journey to himself. He could have had the whole world rally around him, but he pushed forward in silence, honoring his commitments and inspiring others. He showed his true strength, selflessness and commitment to his life's purpose.
My mom saw him first that day. She basically bumped into him. She tried to get my attention, but I was so tired I didn't notice until he was right in front of us. Seeing him was surreal and amazing.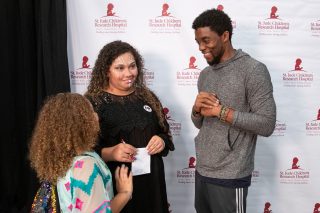 When I walked up to him with my sister Olivia, he said he liked our face painting. I told him the pink lines were painted to honor the tribal marks our dad, who is from Nigeria, has on his face. He was truly interested and asked me where our dad was from and what tribe.
His genuine interest in talking to me, that's what struck me when I first met him.
Olivia and I have seen Black Panther four times now, and we absolutely love it. It means a lot to me as a young Black woman to watch the movie and see people of color being represented as strong positive leads. The movie, and its portrayals, make us proud. It's also something our dad insists on: Movies we watch cannot reinforce negative stereotypes and we should only watch movies that show a strong positive image.
During his career, Chadwick also played other iconic Black Americans such as Jackie Robinson and Thurgood Marshall. He was committed to showing up for Black Americans – showing the world who we are.
Black Panther was meaningful to me on a more personal level because it was the first non-Nigerian movie I can remember where we could hear the characters in the movie speak in an accent that sounded like our dad, grandma, aunt, etc. They sounded like our family.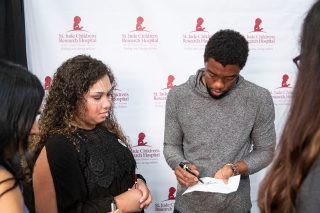 That day, I asked Chadwick to sign on my appointment schedule "Ife Forever," instead of "Wakanda Forever," because Ife is my dad's hometown in Nigeria. He did.
I just learned that "Ife" also translates to "love." So, in essence, he signed "Love Forever," which has so much meaning today.
We had no idea Chadwick was already two years into treatment for colon cancer, but looking back at the care he took with us, I see it now.
Chadwick stood in the Pavilion to meet all the families there to see him, walked through St. Jude and visited Target House. Imagine the inner and physical strength it took for him to do that! The entire time he did it with a smile on his face. He was a hero in his movies and is a hero to us at St. Jude.
If I could send a message to Chadwick Boseman's family this week, I would tell them I'm sorry for the pain they feel but I hope they find comfort in knowing he will continue to make a difference in the lives of others, even in death.
We, along with so many others, thank him for what he did while he was here.
Please be proud and find strength in knowing he changed the world.
Like the words that he signed for me: IFE4EVER.
Love Forever.