Chip Gaines cuts his hair to support
St. Jude

kids like his fishing buddy Bailey
'Operation Haircut Part 2' raises more than $300,000 as 'Fixer Upper' star boldly goes bald — again — for
St. Jude

Children's Research Hospital.

August 27, 2021 • 2 min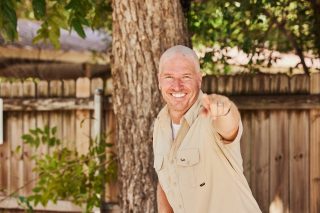 Chip Gaines' long, flowing locks are long gone. And all to benefit a place where bald is beautiful: St. Jude Children's Research Hospital.
The star of TV's "Fixer Upper" was joined in Texas by St. Jude patient Bailey for some fishing, and a spin in the barber's chair, in "Operation Haircut Part 2," a fundraiser that brought in more than $300,000 for St. Jude.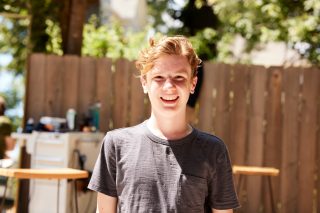 "I'm getting a haircut, and it's happening," Gaines announced in a light-hearted, self-deprecating post on Instagram. "All I'm asking you to do is cut a check. If you hate my hair, $25. If you are repulsed by me and my hair, I'd say that's $50."
"Or $100," said Gaines' wife, Joanna, with whom he recently launched Magnolia Network on discovery+.
The Gaineses are devoted — and creative — St. Jude supporters. In 2017, Chip vowed to shave his head on-site at St. Jude if fans and followers helped him raise $25,000 in just under a week. The response was overwhelming — $230,000 was raised — and Gaines left St. Jude with a lot less hair than he had when he arrived.
When the couple traveled to Memphis, the kids of St. Jude — including Bailey, whom they met on that visit — changed them forever. At the time, Bailey was being treated at St. Jude for osteosarcoma, a bone tumor. And like many St. Jude patients, he was bald, because of the effect of chemotherapy treatments.
Now 16 and finished with treatment, Bailey arrived in Texas with long, flowing hair to rival his host's. The two went fishing, during which Gaines talked about the impact of visiting St. Jude.
"I was excited to be bald, like y'all were," he told Bailey. "And then the thing that hit me like a ton of bricks was that ya'll didn't have a choice in the matter."
Then came the haircuts — a shaved head for Gaines, a stylish cut for Bailey — and yet another show of love and support for St. Jude from the Gaineses.
The same year as Chip's original "Operation Haircut" fundraiser, he and Joanna teamed up with Target to renovate the family dining room at Target House, the long-term housing facility for St. Jude patient families.
The Gaineses visited St. Jude again in 2019, unveiling a garden-themed playhouse for St. Jude patients staying at Target House. That year, Chip Gaines launched the Chip in Challenge to benefit St. Jude. With the goal of exceeding his 2017 fundraising total of $230,000, Chip enlisted a group of celebrity friends and their followers to "chip in" to support the lifesaving mission of St. Jude. Between individual donations and gifts from the Gaines', nearly $1.5 million was raised for St. Jude.
Chip also reconnected with Bailey during that visit.
Now they're friends and fishing buddies, the St. Jude patient and TV star.
No, they don't have matching hairstyles anymore. But clearly this friendship can survive a close shave or two.