Kids with cancer face significant threat of complications from COVID-19, new global study finds
Higher cases of severe infections, hospitalization and death occurred among 1,500 pediatric cancer patients around the world, and the pandemic also disrupted lifesaving cancer care, the study found.

September 01, 2021 • 2 min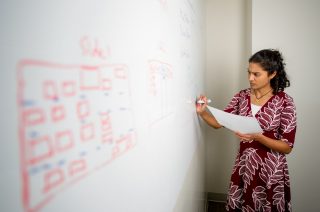 One in five children with cancer develop serious, sometimes life-threatening, complications if they are infected by the COVID-19 virus, according to results from a global study St. Jude Children's Research Hospital doctors and researchers helped lead.
The results, published online in The Lancet Oncology, show pediatric cancer patients were more likely to be hospitalized and die than were healthy children who contract the virus. The pandemic also disrupted cancer treatment, particularly in low-and-middle-income countries, where the odds of severe disease from COVID-19 were nearly six times higher than in the developed world.
"The results clearly and definitively show that children with cancer fare worse with COVID-19 than children without cancer," said Dr. Sheena Mukkada, one of the lead authors of the study and a St. Jude faculty member and expert on global pediatric medicine and infectious diseases.
The analysis, which looked at 1,500 children from 131 hospitals in 45 countries, was the first and largest multi-national study of its kind to see how the novel coronavirus – and the surging pandemic it has brought – has affected some of the world's most fragile children.
Researchers conducted the study from April 15, 2020, to February 1, 2021, prior to vaccinations becoming available for older children and before the emergence of COVID variants, including delta, which are driving a new swell in cases and forming a gathering threat for global health.
Vaccines are safe and effective and masks have been shown to reduce the spread of the virus, St. Jude doctors say. These findings underscore the need to lean on those protective measures to safeguard the health of those with compromised immune systems, like kids with cancer, who are among the most susceptible to this life-threatening virus.
The results for the study were drawn from the Global Registry of COVID-19 in Childhood Cancer, which was launched by St. Jude and the International Society of Paediatric Oncology (SIOP) to gather data on the pandemic's effect on the uniquely vulnerable pediatric cancer patient population.
"By working together to create this global registry, we have enabled hospitals around the world to rapidly share and learn how COVID-19 is affecting children with cancer," said the paper's co-author, Professor Kathy Pritchard-Jones, SIOP president.