FedEx
St. Jude

Championship highlights friendships at weeklong event
From custom golf shoes to friendship bracelets,
St. Jude

kids remind golfers about a mission bigger than competition.

August 15, 2023 • 3 min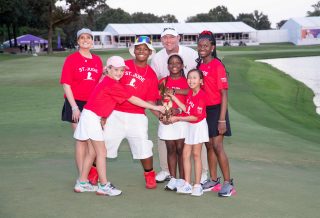 In that moment on the 18th hole when it was all riding on Lucas Glover to secure his victory at the FedEx St. Jude Championship during a sudden-death playoff, he did not forget what it all meant.
The bigger reason.
There was 12-year-old Quincy in his red St. Jude shirt. He had survived Wilms tumor and now here he was — happy, healthy and acting as Glover's honorary caddy.
Glover, father of two and one of the top players in the world, made eye contact with Quincy and gave him two thumbs up — drawing out the moment while the world watched.
Quincy waved. Glover won his game.
Later, Glover held up his trophy and smiled at the kids of St. Jude Children's Research Hospital® who surrounded him — Alana, Allie, Azalea, Mabry, Maelin and, of course, Quincy — the St. Jude Little Looper Pin Flag Caddies.
It was a shared victory. 
"I think one group that needs a round of applause are our honorary pin holders over there in the red shirts. Thanks, guys. Nice job," Glover said.
"My man Quincy there is good luck."
Friendship, even more so than competition, is the hallmark of FedEx St. Jude Championship week in Memphis, as the kids are woven into every aspect of the event.
"We're here to support St. Jude," said Glover. "Having the kids around here at 18 is very special. So, I'm very pleased to be their champion this year. I'm happy to win anywhere, but this one's extra special."
This shared moment of glory for millions to watch was more than just good entertainment.
Since 1970, Memphis' PGA TOUR stop has generated more than $66 million for St. Jude.
The reverberations from the tournament will help children everywhere.
Sunday's trophy presentation capped off a week of moving tournament events that highlighted friendship.
Maelin

Mabry

Azalea


Alana

2023 FedEx St. Jude Championship winner Lucas Glover shares his victory with St. Jude patients (L to R): Allie, Mabry, Quincy, Azalea, Maelin, and Alana.

During his trophy acceptance speech, Lucas Glover expressed that St. Jude patients such as Quincy are the "real heroes" of the FedEx St. Jude Championship.
A long-awaited meeting
In 2021, St. Jude patient Calvin designed FootJoy shoes for PGA TOUR pro Max Homa, but because of COVID-19, they couldn't meet in person.
On the course at TPC Southwind, they finally did.
"This is my boy. No way, no way," said Calvin as he hugged Homa.
"It's been three years," said Homa.
"This is legend, y'all," said Calvin, pointing at the golfer.
Calvin came to St. Jude from California when he was 9 years old to receive proton therapy for a type of brain tumor called a craniopharyngioma. He's also undergone numerous surgeries and today, at 16, he said he's doing well and feeling "grateful for what my brain tumor taught me."
In addition to artistic renderings of chicken nuggets and French fries, Homa's FootJoy shoes included two quotes from Calvin that illustrate his outlook on life: "Motivation is key" and "You see that smile right there? You keep that smile."
See more of Cavin and Max on the course.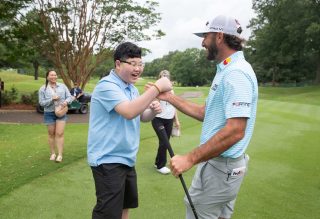 That's my best friend!
Before the pros arrived for the TaylorMade/PING putt-around ahead of tournament play, Maelin saw the golf cart with Azalea pulling up from a distance on the course and could hardly believe it.
She yelled when she recognized her friend. "Azalea!"
The two girls had been told they'd have the chance to putt with PING staff pro Harris English and TaylorMade staff pro Taylor Montgomery. But they hadn't been told they'd get to do it together. That had been kept a surprise by event organizers, who'd seen how much the two girls had bonded at last year's tournament.
So, they ran to give each other a big hug.
Even though Maelin lives in Alabama and Azalea lives in Jamaica, they are connected by their love of this golf tournament and shared St. Jude experience.
In November 2015, Azalea was found to have a soft tissue cancer called rhabdomyosarcoma.
"Our insurance in Jamaica could not be used here," said Azalea's mom, Simone. "We didn't know how long we would be here or where we would stay or the cost, but when you're told your child is critically ill you don't think about those things. If we had to live in the street for her to be at St. Jude, we would have.
"But Azalea's doctor sat us down and one of the first things she said to us was, we can fix this."
Families at St. Jude never receive a bill from St. Jude for treatment, travel, housing or food — so they can focus on helping their child live. Azalea, now 9, is doing well.
Maelin, who is also 9, and her family can relate to all of this.
When Maelin's parents adopted her from China in 2017, they knew she had medical needs. She had hip dysplasia and her family soon learned she had Fanconi anemia. Untreated, this genetic disease can cause leukemia. At St. Jude, Maelin's treatment included chemotherapy and a bone marrow transplant.
"Maelin is just super joyful. Every day, she finds a reason why it's the best day ever," her mom, Megan, said.
And maybe that's the real connection between these two girls — a zest for life.
"That's my best friend!" said Azalea.
"That's my best friend!" repeated Maelin.
When Montgomery and English arrived, Maelin handed out friendship bracelets she made for the occasion. Their friendship was solidified, and the four friends played.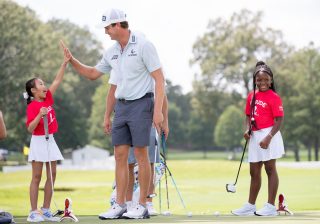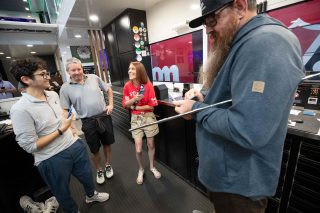 Purple Eagle Olivia takes flight
On a day that promised only cloud cover and rain, Olivia's smile was pure sunshine as the FedEx Purple Eagle naming ceremony got underway.
The 7-year-old St. Jude patient was being honored with an airplane named in her honor.
Bill West, Jr., vice president of supplemental aircraft operations at FedEx Express, wore custom Purple Eagle shoes adorned with Olivia's artwork and admitted he felt "like a kid in a candy store" on these annual dedication days.
Each year since 2012, the Purple Eagle plane has flown to honor St. Jude patients whose parents or grandparents are FedEx team members. The FedEx Cessna Caravan carries the St. Jude logo and the child's name.
"This dedication event is for Olivia, but it also honors our past Purple Eagle recipients," said West. "I am grateful to be able to tell you again this year, all 11 Purple Eagle children are thriving."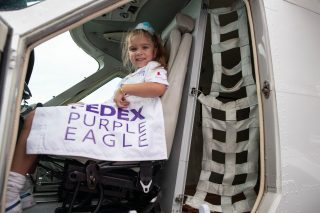 Olivia was born with a condition called neurofibromatosis, which predisposes her to tumor growth. In October 2021, not long after Olivia's family relocated from New Jersey to Tennessee for her dad's new job in the IT department at FedEx, Olivia began having seizures. An MRI revealed a tumor on her optic nerve, and her local hospital referred Olivia to St. Jude for ongoing care.
St. Jude oversees the medication that has kept Olivia seizure-free. They also monitor her tumor through MRIs every three months to make sure there's been no growth, and her St. Jude ophthalmologist checks her eyesight.
"If there's anything that ever needed to be done, there's no place better than St. Jude," said her dad, Roman.
Since becoming a partner of St. Jude in 1986, FedEx has raised more than $65 million for St. Jude — with dividends in saved lives.
Roman said he feels fortunate that FedEx has committed to helping kids like Olivia.
"It makes me very proud of being involved with the company that supports this great partnership," he said. "It's wonderful what they do."
After the ceremony, Olivia was allowed to climb into the cockpit. She called out the window to her "passengers" in the audience below, letting them know they needed to board the plane before liftoff. Then she pretended to take flight — a fitting metaphor for all FedEx makes possible for St. Jude kids through its partnership.
An advocate of hope
Zach, a long-time St. Jude brain tumor survivor who is naturally athletic, began playing golf as a 3-year-old. "When I was young, it was one of the only sports I could still play with my diagnosis," he said, "and I found a love for it."
Now, at 24, he describes himself as being "close to a scratch golfer."
At the FedEx St. Jude Championship Pro-Am, he got the chance to try out his skills with PGA TOUR pros Nick Taylor and J.T. Poston until rainy weather swept in.
St. Jude best friends Azalea and Maelin hold hands and skip down the fairway as they talk with Taylor Moore at the FedEx St. Jude Championship Pro-Am on August 9.

St. Jude patient Reynaldo shares a hug with Tommy Fleetwood, who was touched by Reynaldo's story. Reynaldo was 15 and studying choreography in Puerto Rico when a diagnosis of rhabdomyosarcoma brought him to St. Jude. Now 20, Reynaldo is healthy and beginning college.

Max Homa spends time with 11-year-old Mabry, who survived acute lymphoblastic leukemia. They talked about her newfound love of trick horseback riding. He let her putt, telling onlookers, "She's going to show you how it's done." Then the two shared a selfie.

St. Jude patient Mabry gets putting tips from J.T. Poston.

St. Jude brain tumor survivor Zach got to play in the Pro-Am.
It felt like a dream come true — and a full-circle moment for a young man who sees purpose in sharing his story of survival.
In late 2003, doctors diagnosed 5-year-old Zach with craniopharyngioma, a noncancerous but serious brain tumor that affects the pituitary gland. Doctors at a local children's hospital removed the solid part of his tumor, but much of the cystic component remained. Zach returned to the hospital every six to eight weeks to have fluid drained — necessary to relieve the dangerous buildup of pressure to his brain.
By April 2005, Zach's parents, Lisa and Thomas, were beginning to wonder whether their son would have the life they had imagined for him, one not dictated by frequent trips to the hospital for treatment. Lisa was on her computer one night when she found a support board for craniopharyngioma. Several people talked in glowing terms about the care their children received at St. Jude.
Lisa emailed an inquiry and, before long, she had spoken with the head of radiation oncology at St. Jude, who said targeted radiation could help Zach. The family obtained a referral.
Zach and his mom spent eight weeks at St. Jude. He received 30 radiation treatments that have improved his health and quality of life.
Now, he was here on the course to tell the tale — just one of the many St. Jude stories on the course that day.
In 2022, Zach enrolled in St. Jude LIFE, a long-term survivorship study. It's been wonderful to return to the St. Jude campus, he said, and see the new construction.
"It's amazing to see how St. Jude growth in Memphis and around the country and around the world is continuing to happen," he said. "The research St. Jude created is continuing to help save more and more kids every day."
Zach starts graduate school this month, working toward a career in health administration. He hopes to work at St. Jude someday.
In the meantime, he continues to share his St. Jude story with his golf heroes such as Taylor and Poston because maybe they'll share his story, too.
"I am an advocate of hope."
And that's what Glover knew as he held up his trophy at the FedEx St. Jude Championship and shared his spotlight with the St. Jude kids.
This tournament is more than just about golf, it's about the future of kids everywhere. It's about hope.