Game, Set, Cure: Teen's tennis tourney fundraiser a smash
Inspired by her brother's cancer experience, Annie Sallick, 15, created a tennis tournament to benefit the kids of
St. Jude

.

May 24, 2021 • 4 min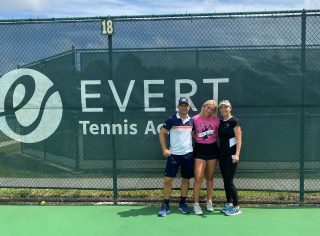 Tennis is like life. You know, those blink-and-miss-'em moments that dazzle but disappear, as suddenly as an ace or slam. And others that stretch out and can be savored, like the longest of rallies.
Consider that the official metaphor of "Game, Set, Cure," 15-year-old Annie Sallick's fundraising tournament for St. Jude Children's Research Hospital at the Evert Tennis Academy in Boca Raton, Florida, where Annie lives and trains.
The tournament, which raised $57,630 (and still counting) for St. Jude, was inspired by her big brother Sam's experience with cancer — Ewing sarcoma, a rare pediatric bone tumor. But it was also about how life comes at you at different speeds, and can change you, and make you a wiser, more grateful and giving human.
"I think it just puts a lot of things into perspective. Not even with sports. Just with life," Annie said on the eve of the tournament, a competition between eight teams, each named for a St. Jude patient. "We have to be super grateful for little things that we're able to do.
"I was reading the bios of the (St. Jude) kids. Some of them do gymnastics. Some of them do art. No matter what it is, cancer affects everything."
Annie saw that happen to her own family in 2019. They were living full, active, healthy lives, and then suddenly Sam, a high school baseball player, was diagnosed with cancer. And so, in a sense, was the whole family.
"I don't think people talk enough about this, about how much cancer can affect everyone in the family," Annie said. "I have a younger sister, and she was 9 and 10 at the time. It's just so hard. She didn't even really know what was going on. And how do you explain to your 9-year-old sister that your brother's hair is going to fall out and he has to get poison put in his body? It's not something that's explainable.
"My parents did a great job of being there for us, and being present. But I think I also kind of had to go into like a motherly role for my sister. And explain to her, and help her grow up. I think it made me grow up a lot more in that year, just become really mature and be able to take on a motherly role for my family, and be a rock for my sister, and for Sam, too."
Sam, healthy again and now in college, wasn't treated at St. Jude. But Annie knew all about St. Jude because Marlo Thomas — National Outreach Director for St. Jude and daughter of the institution's founder, Danny Thomas — is a family friend.
Annie already had an idea for a fundraising tournament, benefiting kids, when the inspiration struck to make St. Jude the beneficiary. Responding to a St. Jude Instagram post, she was writing Valentine's Day greetings for patients when "it kind of just popped in my head like that — St. Jude!"
"Because this is, for the most part, a junior tennis academy, and there are kids of all ages," she said. "It just made so much sense that we're kids, being able to play for other kids who aren't as fortunate as we are to be able to play tennis, and do the things that they love."
Annie's idea took off, with some high-powered support — first from Marlo Thomas, connecting Annie with St. Jude, and then from tennis legend Chris Evert at the Evert Tennis Academy.
"I went on a limb," she said of approaching Evert. "I pulled an Annie Sallick — my dad says. I just went up to Chrissie one day and I was like, 'Hey, I have a really great idea. I think you'll love it. Can we meet?'
"We talked about it and she was really into it. And she was saying, if you need anything, talk to me and we can figure it out."
Evert, who partners with her brother John in the academy, later made donations to each of the eight teams. And, she joined Marlo Thomas in touting Annie and her fundraiser on social media, helping spread the word. An event Annie initially hoped would raise $5,000 had a pre-tournament goal of $60,000, which is expected to be reached as donations continue to come in.
It was an invaluable experience for the teenager — and we're not talking about playing tennis. Annie hopes to play the sport in college, but envisions something else for a career — possibly marketing and fundraising.
"I hope to make it an annual event. And I hope to make it a lot bigger than it is right now," she said. "This is kind of like a trial for us, to be honest, and look how much money we've raised, and how much publicity we've gotten.
"Within the tennis community, we can make it really big."
To borrow the parlance of her sport, this 15-year-old future fundraiser and marketer might just be about to turn pro.
"This just feels like the first of many things," Annie said. "I love communicating with people, I love talking to people. Just being able to use that for good is something that I think is really important."