Global collaboration spurs treatment breakthroughs at
St. Jude
We've seen scientific advancements over our 60-year history and through generations of patient families, but we can't stop because there's still so much to do.

December 16, 2022 • 3 min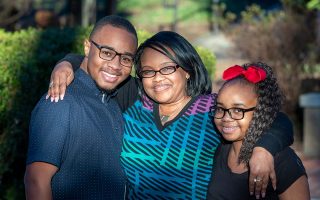 One family's journey with childhood cancer tells the story of St. Jude Children's Research Hospital and its 60-year history. It's a story of successes and losses, of challenges, and why we must persevere to help ensure families of today and the future find the hope and healing they need.
Theirs is a story of loss and survival, relapse and second (and third) chances at life. Lisa was treated for acute lymphoblastic leukemia (ALL), the most common type of childhood cancer, at St. Jude in the 1980s. But before she was a patient, she was familiar with St. Jude — a relative was treated for ALL in the early 60s and, sadly, did not survive.
Lisa's story wouldn't be the end of her family's journey. Her son, Javon, was diagnosed with the same disease, ALL, in 2003 at the age of 2. Five years later, her 2-year-old daughter, Jakayla, was found to have ALL as well.
When St. Jude was founded in 1962, the survival rate for ALL was less than 5 percent. Like Lisa's early relative, tragically almost all patients passed away from the disease at the time. With ground-breaking research and advancements in treatment over the decades, over generations of Lisa's family, survival rates have risen. And today, thanks to the generosity of our supporters, the survival rate for ALL at St. Jude is about 95 percent.
This is great news, but there is still so much to do. For the 10 percent of ALL patients who relapse, treatment and, ultimately, survival becomes even more challenging. Lisa and Jakayla relapsed with their cancers. Javon relapsed twice, spending years in treatment, attending the St. Jude School Program by Chili's until the sixth grade and putting off learning to ride a bike — a cherished rite of childhood — until he was a teenager. Today, he's doing well and is thriving as a college student.
This is why I'm so proud to tell you about the results of a recent clinical trial co-led by St. Jude and Shanghai Children's Medical Center in China that has seen a 99 percent remission rate for children with ALL who relapse.
St. Jude pioneered the practice of combining chemotherapies in methods proven to work against ALL, seeing survival rates rise within our first decade to 50 percent and prompting Dr. Donald Pinkel, the first medical director of St. Jude, to declare childhood leukemia curable.
This new study, published in the Journal of Clinical Oncology, proves a similar combination of immunotherapy can impact survival rates as well.
Dr. Ching-Hon Pui, MD, chair of the St. Jude Department of Oncology, called the remission "an excellent rate" and explained, "We have learned that you must hit the cancer cells with combination therapies with different mechanisms of action at the same time to cure patients."
These findings, coupled with the $200 million initiative to provide consistent, quality assured chemotherapy medicines to countries in need, all for free, will surely aid St. Jude and our partners in reaching the 2030 goal of increasing global survival rates for six of the most common types of childhood cancer, including ALL, from less than 20 percent to 60 percent.
This study could not have happened without collaboration. Carlos Rodriguez-Galindo, MD, St. Jude Department of Global Pediatric Medicine chair, said, "This research is evidence of what we can accomplish together and is just the latest example of scientific discoveries our teams can achieve. The results of this study will bring hope and options for cure to children with refractory leukemia all over the world."
Cooperation among doctors and researchers around the world, united behind the purpose of advancing discoveries and saving the lives of kids no matter where they live.
This is your impact. Your good work, compassion and purpose will fuel research and scientific breakthroughs coming from St. Jude for the next 60 years and beyond to help kids like Javon and Jakayla, and families like Lisa's find the hope and healing they need.