California teen nears $500K raised for
St. Jude

in soccer challenge

Hollis Belger, who started fundraising for St. Jude in 2013, has motivated others to join her efforts through Juggling for Jude.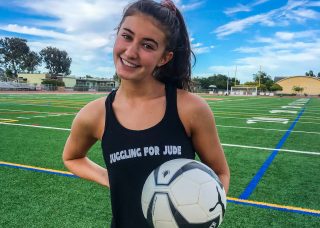 It took less than an hour for Hollis Belger to reach a staggering 5,350 soccer juggles. The California teen kept a soccer ball aloft using just her feet for 56 minutes and 3 seconds.
It was a moment years in the making for Hollis. Seven years, to be exact.
It was 2013 when Hollis began Juggling for Jude, using her soccer skills to raise funds for St. Jude Children's Research Hospital. The juggling record, which topped her previous one by more than 1,100 juggles, wasn't Hollis' only focus this summer: She's also closing in on $500,000 raised for St. Jude since she began her fundraising campaign.
Pretty remarkable for what is essentially a one-person fundraising operation. But for a 16-year-old, during a pandemic that upended practically everything in her life and nearly scuttled her global challenge, her accomplishments are downright extraordinary.
Hollis' efforts have attracted supporters big and small, from Mexican soccer legend Oswaldo Sánchez to 6-year-old St. Jude patient CJ, who participated in the juggling challenge with his father, logging an enthusiastic three juggles.
Hollis isn't doing it for accolades, although she's received several, including the 2017 Jerry Nicholson Award from ALSAC, the fundraising and awareness organization for St. Jude. She was also honored with the 2020 Diller Teen Tikkun Olam Award, given each year to 15 teens who are making the world a better place.
What keeps Hollis going, juggling for an entire hour straight, are St. Jude patients like CJ, who she's never met in person, but with whom she has an unmistakable bond. Also Kayla, Caleb, Ramon, Riku, Chandler, Craig and all of the patients at St. Jude, past and present.
St. Jude is Hollis' why, and also why she will keep juggling.
"I keep fighting because there are still kids dying from cancer here and around the world," she said. "Until the survival rate is 100 percent, there's always more I can be doing."