Inspiration4 crew enjoys a banner day of cheer and gratitude on
St. Jude

campus
Members of the first all-civilian mission to orbit Earth visit patients, celebrate naming of new Inspiration4 Advanced Research Center.

November 10, 2021 • 3 min
While orbiting Earth in the SpaceX Dragon capsule, the crew of Inspiration4 fielded questions from St. Jude Children's Research Hospital patients on topics as wide-ranging as what lift-off and zero-gravity felt like to whether or not there are cows on the "mooooon."
This week, the crew — mission commander Jared Isaacman, medical officer Hayley Arceneaux, mission pilot Dr. Sian Proctor and payload specialist Chris Sembroski — fielded patient questions closer to home as part of a triumphant heroes' parade on the St. Jude campus.
Stops along the campus route included cheering stations filled with employees of St. Jude and ALSAC, the fundraising and awareness organization for St. Jude. But it was at the Chili's Care Center where the parade came to a joyful and rowdy halt as patients wearing pajamas and masks waited with signs, stuffed animals and pom-poms.
As the astronauts, perched on the back of vintage Ford Mustang convertibles, pulled near, St. Jude patient Matthew waved ribbons and a stuffed cow named "Moon" in the air.
It was 6-year-old Matthew who had asked the question about the possibility of moon cows and to see his heroes up close and personal was a treat, though he insisted it was still more fun to ask them questions in space.
The theme of the day was the global impact of St. Jude cancer research and the impact of the Inspiration4 mission on raising funds and awareness for the cause. Unlike other civilian space pioneers, Isaacman chose to have a humanitarian cause associated with his mission and has helped raise more than $240 million for St. Jude. Jared and Monica Isaacman have personally committed more than $125 million.
"Inspiration4 has helped inspire the world to rally around the cause of finding cures for childhood cancer and other life-threatening diseases," said Richard Shadyac Jr., President and CEO of ALSAC.
In addition to the parade, the crew took part in a naming ceremony for the Inspiration4 Advanced Research Center. The nine-story, 625,000-square-foot facility is designed for collaboration between scientific disciplines.
"The spirit of teamwork, exploration and courage that defined the Inspiration4 crew also fuels St. Jude researchers to accelerate progress in the understanding and treatment of childhood catastrophic diseases," said Dr. James Downing, President and CEO of St. Jude. "The center, designed to foster creativity and interaction, inspires our scientists to push the bounds of discovery. The crew's journey reminds our patients to never stop reaching for the stars."
The Inspiration4 Advanced Research Center is part of ongoing St. Jude expansion projects including the $110 million, 140-unit Domino's Village patient family residence, and proposed outpatient and clinical office buildings that will help St. Jude increase the number of new cancer patients treated at the research hospital each year. The projects are part of an overarching six-year, $11.5 billion strategic plan which includes more than tripling a global commitment to impact the more than 400,000 kids with cancer around the world each year.
The $412 million research hub was funded through commitments from more than 100 individuals and organizations as part of the Capital Campaign expansion project. Sky High for Kids, an organization supporting numerous hospitals and research centers devoted to childhood cancer, named the second-floor Developmental Neurobiology Department.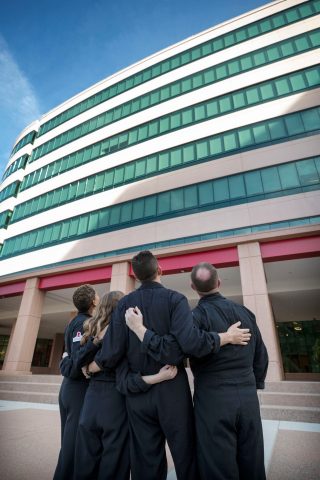 Home to specialized technology in artificial intelligence, gene editing and microscopy for research in immunology, cell and molecular biology, metabolomics, epigenetics and genomics, the facility features a soaring central atrium where light floods through windows and sight lines stretch from one end of the structure to the other.
Following the ceremony, the Inspiration4 crew and guests toured the research hub named for their mission.
For a risk-taking entrepreneur and crew of intrepid adventurers getting an initial look at a medical complex first envisioned by a comic and entertainer six decades earlier, the day was about perspective.
That perspective was brought into focus through the eyes of patients posing for pictures with their heroes. A handmade, posterboard sign held by one of Arceneaux's patients and decorated with stars and rockets read: Thank you for taking care of me. Matthew brought a copy of the Cat in the Hat book There's No Place Like Space! for the crew to sign. And 10-year-old patient Jackie declared that she wants to be an astronaut one day.
"The journey to space was a huge challenge but nothing compared to what these kids go through every day," Isaacman said. "It's an honor for our mission to be linked to St. Jude Children's Research Hospital, and I am proud to stand with every St. Jude supporter motivated by the vision of a world where every kid can survive and thrive."