Inspiration4: Hayley Arceneaux returns to
St. Jude

Children's Research Hospital, and she's still floating on air
It's a hero's homecoming for the first pediatric cancer survivor in space

September 25, 2021 • 3 min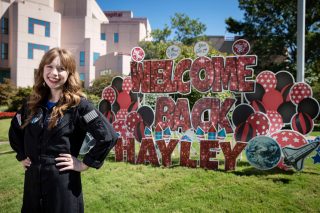 When you've rocketed into space and flown rings around the Earth, what else could possibly compare for Hayley Arceneaux?
How about her hero's return to St. Jude Children's Research Hospital on a blue-sky Thursday morning, with enthusiastic supporters, including patients and their families, gathered to greet the first pediatric cancer survivor in space. They cheered, clanged bells and waved hand-made signs that said "Welcome back to Earth!" and "There's a special place-n-space 4 Hayley" and "We love you to the moon & back!" Even the St. Jude facility dogs, Huckleberry and Puggle, were there, in custom silver space helmets.
And Hayley's response to all this love? Turns out you don't need zero gravity to float on air.
"Every single one of you patients are my heroes," said Hayley, at the parade's first stop, just outside the doors she entered, nearly two decades before, as a 10-year-old with osteosarcoma. "I just want to show you that if I can do this, you can do this."
St. Jude saved Hayley's life, and her left leg. After limb-sparing surgery, she received a titanium rod in her left thigh — and hasn't slowed down since. She's a world traveler who's visited five continents, and this month became the youngest American in space, part of the first all-civilian crew into orbit. The aptly named Inspiration4 mission has St. Jude as its charitable beneficiary for an unprecedented fundraising campaign, with commitments for $225 million so far.
Hayley homecoming gallery
"It was almost 20 years ago exactly that I was standing right here, walking through these doors for the first time, and I was sooo scared," said Hayley, wearing her Inspiration4 flight suit adorned with a St. Jude patch. "And St. Jude became my home, really quickly."
As a patient, she vowed to return to St. Jude someday to work — and she has, as a physician assistant. But never has her arrival at her "dream job" been met with this kind of pomp. She rode through campus atop the back of a convertible, smiling and waving, basking and glowing.
There were three stops along the way, starting outside the Patient Care Center, where patients and families filled the crowd. She also addressed employees of ALSAC, the fundraising and awareness organization for St. Jude, and researchers doctors, nurses and other employees of St. Jude.
Asked about her favorite moment of a flight that took the Inspiration4 crew 366 miles above Earth, traveled at 17,500 mph and orbited the planet every 90 minutes for three days, Hayley brought it all back home, to St. Jude.
"Of course, the highlight of my mission — and, really, my other crew members said the same — was that call (from space) with the St. Jude patients," she said. "That was a life highlight. It was so meaningful, and several of the kids on that call were my patients. And getting to hear their little voices was just so uplifting."
Amid the cheers and applause, the parade had a quiet moment, too, as the car stopped so Hayley could talk to a patient in a wheelchair.
It was a reminder of Hayley's remarkable story and the arc it has followed:
A scared little girl facing a life-threatening disease. A second-chance life that's seen this 29-year-old survivor return to work for the cause. And a seat on a historic flight that captured the nation's attention, inspired kids everywhere to dream of the cosmos, and has exceeded its extraordinary fundraising goal.
"And we're not stopping," said Hayley, who knows a little something about accomplishing a mission.