St. Jude

supporter ready to 'rise above the Earth' in historic mission to space
Chris Sembroski, who grew up obsessed with the cosmos and has made aerospace his career, will be in the Generosity seat on Inspiration4.

March 29, 2021 • 3 min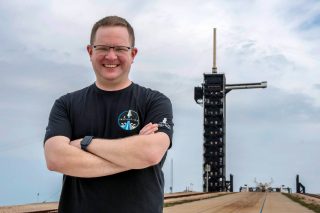 English | Español
He used to star-gaze from the roof of the high school, and then shared his passion for the cosmos as a Space Camp counselor. He launched model rockets with his dad, a hobby that went high-powered as a college student.
So maybe it's not such a giant leap for Chris Sembroski, 41 and fascinated with space all his life, to join Inspiration4, the world's first all-civilian mission to space. After all, he works in aerospace manufacturing. And, he lobbied members of Congress as part of a citizen space advocacy group, helping clear the way for private companies like SpaceX, whose craft will spirit the I4 crew into orbit with St. Jude Children's Research Hospital as its charitable beneficiary.
"Seeing my very first rocket launch in person really cemented that passion deep into me," said Sembroski, recalling a Space Shuttle launch in Florida he witnessed as a college freshman. "Once you see your very first live, real-size rocket launch to space, there really are very few other experiences like that, for me, that give you goosebumps, that really just kind of change who you are as a person."
Then again, it is kind of a giant leap, Sembroski becoming a civilian astronaut. Before he won Inspiration4's Generosity seat as part of a special fundraising campaign for St. Jude, he thought his chances were "one in a bazillion." Even so, he was fascinated by space and the chance to contribute to St. Jude was "the cherry on the sundae," so, why not?
But for Sembroski to join a mission whose driving force is to raise funds and awareness for St. Jude? That's no giant leap. That's no more than a small step. Not just because Sembroski had donated previously to St. Jude, and was aware of its life-saving treatments and groundbreaking research. But also because he seems to be just the sort of person who gravitates to the cause.
Hopeful. Empathetic. Passionate about life and its possibilities.
"I experienced a lot of generosity," said Sembroski, recounting a life that's seen him become a husband and father, a professional in the industry of his dreams, and now, having the chance to go on a journey of a lifetime, to benefit a cause for the ages.
"I really want to make sure we support each other, that we promote kindness, that we inspire people to be more generous with each other, just the way that generosity was afforded to me."
Sembroski, a U.S. Air Force veteran who volunteered for deployment to Iraq, lives in Everett, Washington, and works in machine fault detection and diagnostics at Lockheed Martin, the global security and aerospace company.
In other words, where some people struggle to find their way in the world, young Chris followed the stars.
He's passionate that all young people should be able to find their dreams, and then follow them.
He calls it "soul crushing" that a young person with a love of science could be told that space travel is a virtual impossibility — that "you've got a greater chance of getting into the NBA than you do to be an astronaut."
When Sembroski said, "It's not the way it should be," he might have been talking about young people in another context — facing a cancer diagnosis, uncertain of their future.
That's the beauty of Inspiration4. That's the symmetry of it. Shift4 Payments chief executive officer and mission commander Jared Isaacman, who is funding the flight, didn't want to just do something great, but to do some good. He made St. Jude a partner and sole charitable beneficiary, awarding two of four crew seats to St. Jude — one going to Sembroski through the fundraising campaign, and the other, representing the Hope mission pillar, to Hayley Arceneaux, a former St. Jude patient now working at St. Jude as a physician assistant.
So, just as this flight will pave the way for people from all walks of life to visit space in the years ahead, so will the funds it generates for St. Jude fuel the research to cure children who in another age might never have lived to see adulthood.
That's at the heart of this mission: By going to space, so much good can be accomplished here on Earth.
Or, as Sembroski puts it, in language that fairly soars…
"Socrates was quoted as saying that man must rise above the Earth to the atmosphere and beyond, for only then will he truly know his place in the world. I hope to bring that message back, of how I feel and what I experienced in that moment, looking back down to Earth and understanding that there are no lines on the Earth, there are no walls.
"We are all here together. We can all do amazing things, if we show a little generosity and kindness towards one another."