She got her 'golden ticket' to space, not from NASA, but through Inspiration4
Accomplished scientist and explorer Sian Proctor, winner of the 'Prosperity' seat on Inspiration4, has a passion for making spaceflight accessible to all.

March 29, 2021 • 4 min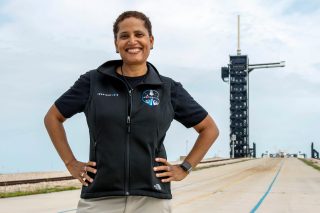 English | Español
Sian Proctor still talks about that time her dream of going to space seemed this close, squeezing her index finger close to her thumb for effect.
The year was 2009, and out of 3,500 applicants, Proctor made the cut to become a finalist in the NASA astronaut-selection process. Then she waited for the phone call, the one that would relay the final yes-or-no decision on whether she would be one of the nine selected.
"And you get that call, and it's 'no,' and you're like, 'Awww,'" Proctor recalls, the disappointment still registering in her voice. "You know, you just feel it slip through your fingers."
Skip ahead a dozen years, and Proctor gets another call, about another opportunity she was pursuing.
This time the answer is yes — she'll get to go to space, after all. Not with NASA, but with Inspiration4, the world's first all-civilian space mission, as it raises money and awareness for St. Jude Children's Research Hospital.
At the same time, the mission is showing the world what inclusive space travel can look like, a cosmic demonstration that aligns with Proctor's personal passion for equitable representation in space travel.
Proctor, not surprisingly, is ecstatic to have gotten what she calls the "golden ticket."
"It's everything I feel like I've been working for or towards my entire life," said the woman who's built a career as a scientist, explorer, artist, author, speaker and even television personality.
As a member of the four-person crew, Proctor, 51, joins Jared Isaacman, the 38-year-old founder and CEO of Shift4 Payments who will command the flight, Hayley Arceneaux, 29, who survived childhood cancer at St. Jude and now works there as a physician assistant, and Christopher Sembroski, 41, an Air Force veteran who works in the aerospace industry.
Just as she had done for NASA, Proctor competed fiercely to join the crew on Inspiration4. With her trademark energy and enthusiasm, she produced an entry that was selected from among some 100 submitted in an online business competition to win the seat representing the mission pillar of Prosperity.
Proctor has no personal ties to St. Jude, although she had known of the research hospital through its fundraising appeals on TV.
"When I learned about the contest and that not only was this to go to space, but it was to raise money for such an amazing cause, that just makes it that much more special. And I'm so glad to be a part of this."
If the mission of St. Jude resonates strongly with Proctor, it's in no small part because her father died of cancer when she was 19. While he was sick and couldn't work, she worried about how the family would pay bills. The whole ordeal was "literally devastating," she said.
"I can't even imagine what it would be like for a parent to experience that."
That burden is lifted for families at St. Jude, who never receive a bill from St. Jude for treatment, housing, travel or food.
It could be said that space was Proctor's destiny from the very beginning.
She was born on Guam, the U.S. island territory in the Western Pacific where her scientist father worked in a station that tracked flights for NASA's Apollo space program. Her dad even kept an autograph from Apollo 11 astronaut Neil Armstrong on his office wall.
With that background, it was perhaps inevitable that Proctor would be exploring even as a child. Her parents encouraged her to play in the woods and build forts and investigate nature.
She grew up to become a geoscientist, spending more than two decades as a professor teaching geology, sustainability and planetary science at a community college in Arizona. After her near-miss attempt to join NASA, she became an analog astronaut, taking part in simulated missions to the moon and Mars. From her studies of food strategies for astronauts on long-term missions, she authored a cookbook called Meals for Mars.
Proctor would go on to appear in a number of educational and scientific TV shows on networks like the Discovery Channel and PBS. She also found time to begin producing art related to space.
Space exploration may be her personal passion, but Proctor is quick to point out its potential benefits to all of humanity.
"As we push the boundaries of what humans are capable to do in this extreme, hostile environment, it makes us more efficient, because space is all about efficiency in energy, in water, in food and all of the systems, because if you're not efficient, then you can die in space."
She speaks a lot about JEDI, but not the kind in Star Wars. For her, an African-American woman, it's an acronym referring to a goal of a Just, Equitable, Diverse and Inclusive strategy for human space flight.
"So this is the message of how we are writing the narrative of human spaceflight right now, as we go to the moon, and we go on to Mars, and what do we want that to look like.
"How do we make space really for everyone — you know, bring all of humanity along? And the Inspiration4 mission is the perfect example of this."