St. Jude

joins world's first all-civilian mission to space
Inspiration4 mission aims to inspire support for
St. Jude,

which is launching ambitious $200 million fundraising and awareness initiative

February 01, 2021 • 3 min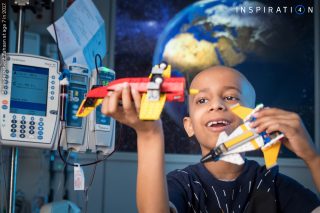 English | Español
St. Jude Children's Research Hospital will join the world's first all-civilian mission to space, a history-making flight to help further the research hospital's fight against pediatric cancer and other life-threatening diseases here on Earth.
The Inspiration4 mission, so-named to inspire support for St. Jude and send a humanitarian message of possibility, will be commanded by accomplished pilot Jared Isaacman, Founder and Chief Executive Officer of Shift4 Payments, a St. Jude partner of several years. Isaacman, 37, has given St. Jude two of the four crew positions.
One will be awarded as part of a sweepstakes and St. Jude fundraising initiative in support of the nonprofit's multi-billion dollar expansion to accelerate research advancements and save more children worldwide. The other will go to a St. Jude mission ambassador who exemplifies the courageous vision upon which St. Jude was founded.
Isaacman has committed to give $100 million to St. Jude, and all are invited to join in giving to help raise upwards of $200 million or more in support of the lifesaving mission of St. Jude. He will also offer additional support to the St. Jude fundraising effort in the form of other rewards, including flights in a military jet and flight gear.
"It is about living life to its fullest. But it's also, in the process of that, what kind of impact can you make for the rest of the world?" Isaacman said. "If this turns out to be, which I sure hope it does, the single largest fundraising campaign for St. Jude Children's Research Hospital, think about all the good we're going to be able to accomplish with those dollars here on earth."
Members of the crew will be announced in the coming weeks, with the four seats representing the mission pillars of Leadership, Hope, Generosity and Prosperity.

For St. Jude, the mission into space is very much tied to its mission on Earth — advancing cures and means of prevention for pediatric catastrophic diseases through research and treatment.
"From the beginning, St. Jude has been at the forefront of innovation and inclusion, leading in cancer research, care and treatment for some of the world's sickest children regardless of race, ethnicity, beliefs or a family's ability to pay," said Richard C. Shadyac, Jr., President and Chief Executive Officer of ALSAC, the fundraising and awareness organization for St. Jude. "This partnership brings two missions together to create one incredible moment in time that will make an impact on many lives for years to come in the global effort to cure childhood cancer."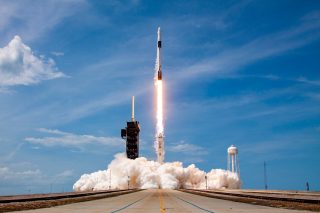 Throughout February, the public can enter to win a seat on the flight and support the lifesaving mission of St. Jude at Inspiration4.com. As part of this effort, St. Jude is launching its $200 million fundraising initiative, with opportunities throughout the year to engage in the mission and receive access to special experiences, collectible incentive items, flight-related campaign information and opportunities, and more.
Inspiration4 will be featured in a 30-second TV spot during the CBS broadcast of Super Bowl LV on Feb. 7. Titled "The Suit," the commercial will invite viewers to support the mission and be a part of the historic journey to space.
Visit inspiration4.com to enter for your chance to win and to donate to St. Jude in support of this fundraising mission.
Inspiration 4 Sweepstakes Terms & Conditions