Jake Owen: A foundation of giving
Country music star Jake Owen's foundation makes major donation to St. Jude Children's Research Hospital.
Having won the Randy Owen Angels Among Us Award last year for his support of St. Jude Children's Research Hospital, country music star Jake Owen doesn't appear ready to relinquish his wings and halo anytime soon.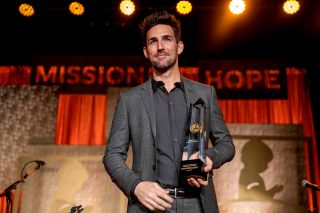 The Jake Owen Foundation, the nonprofit organization established by the artist 10 years ago, recently made another generous donation to St. Jude. The gift came from the annual charity event Owen hosts each year in his hometown of Vero Beach, Florida, for St. Jude and local charities.
For close to 15 years, Owen has been visiting St. Jude patients and families, participating in radiothons and donating items for auctions benefiting the research hospital. In addition to performing in the annual fundraiser he hosts, the country star has appeared in musician Darius Rucker's "Darius and Friends" concerts benefiting St. Jude.
In January 2019, during the 30th anniversary of Country Cares for St. Jude Kids®, Owen received the Angels Among Us Award from Alabama lead singer and Country Cares co-founder, Randy Owen (no relation), and Richard Shadyac Jr., president and CEO of ALSAC, the fundraising and awareness organization for St. Jude. The award recognizes individuals who have made exceptional and lasting contributions to St. Jude.