Songwriters come bearing gifts by baring their souls for
St. Jude
St. Jude Songwriters Showcase goes virtual this year with a livestream performance from four musicians
You could say Zan Fiskum has been preparing for the St. Jude Songwriters Showcase for months, maybe even years.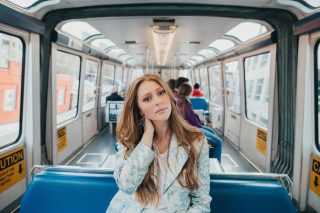 She didn't know it at the time, but all roads have led the singer-songwriter to this moment when she gets to share her gift of music to help further the mission of St. Jude Children's Research Hospital.
The Seattle-based artist and three other singer-songwriters will be featured in the fifth annual St. Jude Songwriters Showcase on June 27. This year is a first for the showcase as it had to transition into a virtual event, featuring livestream performances from Fiskum, her songwriting partner and frequent collaborator, Alec Shaw, and mainstream hit-writers Amy Allen and Brett James.
If the name Zan sounds familiar, it's because Fiskum was recently a contestant on NBC's The Voice, selected by John Legend for his team and making it all the way to the semi-finals before being eliminated, but not before the viewing audience got to see the folksy singer mesmerize with a haunting rendition of Bob Dylan's Blowin' in the Wind.
She performed the song extremely socially distanced, in the woods in an RV, because at that point The Voice had also been affected by the COVID-19 pandemic, with the singing competition relocated to at-home performances — which turned out to be good practice for the St. Jude Songwriters Showcase.
The 23-year-old comes by her artistry honestly. Raised in a musical home, with a mother who gave piano lessons and a family that sang in a local musical theater, Fiskum developed a love of music early and a passion for performing not long after that.
Age 4, actually. As Fiskum describes it, she was a shy girl, and it wasn't until she was at a music audition for her older sister that she chimed in about wanting to sing, too.
From there, she began writing her own songs and performing at her church and local venues, including a Seattle-area hospital. Her family had been deeply affected by the cancer diagnosis of a child close to them – the daughter of the musical theater's owners. That event, as well as other pivotal moments within her own family, shaped Fiskum's perspective and made her passionate about supporting families going through traumatic circumstances.
Fiskum and Shaw wrote their first song together when they were 16 and have continued their music careers, writing worship music. Shaw is producing Fiskum's first full-length album, Sleeping Problems.
In the meantime, Fiskum is hoping to continue to spread love and light to others, starting with the St. Jude Songwriters Showcase.