Marvel,
St. Jude

team up for super heroic message of love

Limited-edition 'I love you 3000' T-shirt will benefit St. Jude, thanks to donations from Design By Humans
Avengers: Endgame is a superhero movie filled with sound and action, but one of its most powerful moments is a quiet one. Tony Stark, aka Iron Man, tucks his daughter in for the night and she tells him:
"I love you 3000."
In other words, a lot.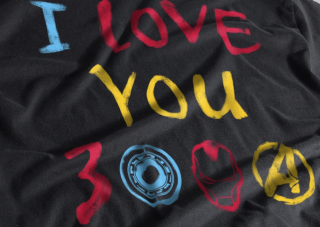 What better message for a new Marvel T-shirt that benefits the kids of St. Jude Children's Research Hospital? The officially licensed design is available through July 20, with a portion of each sale being donated to St. Jude by Design By Humans, an online merchandise platform for independent artists, content creators and broadcasters, and host of the limited-edition campaign.
"Both Marvel and St. Jude Children's Research Hospital felt that this graphic was perfect for the limited-edition campaign because of the heartfelt message and the simple, yet sincere, meaning behind the design," said Chris Lee, senior account manager for Design by Humans.
Design by Humans has been collaborating with St. Jude since 2015, specifically with St. Jude PLAY LIVE, a global fundraising campaign that brings gamers, broadcasters and creators together with their fans for real-time donations.
This new collaboration between St. Jude and Design By Humans features a Marvel graphic inspired by the highest grossing movie of all time, and highlighting one of its most memorable lines.
"Hopefully, this will be the first of many more collaborations between Marvel and St. Jude Children's Research Hospital," Lee said.
Superhero fans, after all, love a sequel.