A message from ALSAC's CEO: the power of kindness

March 26, 2020 • 2 min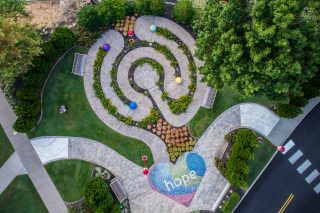 Dear St. Jude supporter,
Over the past several weeks we have learned new terms like "social distancing" and been personally affected by schools closing, businesses adjusting, healthcare stress on the front lines, and other difficult decisions related to COVID-19 in our communities and across the globe. It's been hard for everyone, but it's also during times of incredible distress that you witness the resilience and beauty of the human spirit.
Inspired by Your Kindness
At our best, we look out for each other, especially the most vulnerable among us. We do a stranger a kind turn. We lead with our hearts. At St. Jude Children's Research Hospital we are blessed to witness these kinds of acts from the incredible doctors, nurses and other healthcare professionals caring for patients and from incredibly generous people like you — every day.
It's one of the ways we'll get through these trying times — with the uplift of untold acts of human generosity, large and small. Together. And now, we're seeing more of it around the world, these signs of kindness in the time of COVID-19.
So we went looking for acts of kindness — and found them everywhere. People looking out for a neighbor or stranger, teachers reaching out to students, strangers putting the most vulnerable among us first, and all of us finding new ways to stay connected to each other. The stories we are sharing come from all over the globe, but one that's especially meaningful to us is about a St. Jude family whose son, Dylan, sadly lost his battle with cancer in 2010. Dylan's parents own a local restaurant in their community — inspired by their son's memory — and when local schools closed due to social distancing requirements, they stepped up to make sure the kids in their community would receive a well-balanced meal that many of them would have gone without if not for their generosity. You can read their inspiring story and so many more in our new Inspired by Your Kindness blog.
Finding Hope
Take comfort in these stories of strength, empathy, courage and selflessness. It's thanks to friends like you that St. Jude is a beacon of hope for children battling cancer and other life-threatening diseases. And, thanks to your incredible support, St. Jude will continue to be here taking care of the children worldwide who need us. Even in times of great uncertainty, together, nothing is impossible.
We have received countless notes and messages of concern from so many of you. We are deeply moved by the outpouring of love and concern you have shown for the patients, families and staff at St. Jude. I know each and every one of you are dealing with changes and challenges in your own lives. The fact that you've also been thinking of St. Jude and continuing to support the children who need us is remarkable.
We are so grateful for each and every one of you. Please be well.
Richard C. Shadyac Jr. is President and CEO of American Lebanese Syrian Associated Charities, the fundraising and awareness organization for St. Jude Children's Research Hospital.