ALSAC's Response to COVID-19

March 16, 2020 • 2 min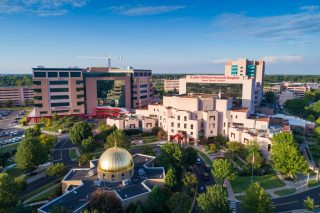 Dear St. Jude Family,
As the President and CEO of ALSAC, the fundraising and awareness organization for St. Jude Children's Research Hospital, I want to express our concern and gratitude for you during this challenging time, and also provide a few updates on how ALSAC and St. Jude are responding to COVID-19, a type of coronavirus.
First and foremost, I hope all of you are doing what you can to protect yourself, your family, friends and your community. All of our supporters are part of our extended St. Jude family, and your health and well-being matter to us.
I know how deeply you care for the children who rely on St. Jude, and I can assure you St. Jude is doing everything possible to protect the vulnerable children in our care. Patients battling cancer and other diseases treated by St. Jude are extremely susceptible to contagious viruses, and our medical leadership is strictly limiting visits to our campus to essential personnel only as well as taking other precautions. Thanks to supporters like you, St. Jude is doing everything possible to keep them safe and continue care and research.
ALSAC takes seriously our responsibility to help slow the spread of COVID-19. Like many other businesses and organizations, we have taken important steps to safeguard our employees and our supporters, including modified work arrangements like working from home for most of our staff; educating our workforce on how to stay safe; and connecting virtually instead of traveling and meeting face-to-face. We also have postponed fundraising events that put people in close proximity to one another and moved others online so we can continue supporting the patients and families and our important life-saving work. Each of these decisions will inevitably impact fundraising, our lifeblood, but we feel deeply an obligation to our communities and to all of you to do our part to slow the spread of this virus.
These challenging times remind us how much it means to St. Jude families that supporters like you are with them as their precious children make difficult journeys toward hope and healing. Your love and generosity for the children mean so much to St. Jude, now more than ever. That's what allows us to continue to provide cutting-edge care and invest in research so we can eradicate these awful diseases.
More information about our mission and these challenging times and ways to still give online are available at StJude.org.
When I think of compassionate people like you, I am reminded of the words of our founder, Danny Thomas, who often said:
Success has nothing to do with what you gain in life or accomplish for yourself. It's what you do for others.

Danny Thomas
During these uncertain times, I want to thank you from the bottom of my heart for all you do for the children of St. Jude, and for all you are doing to support your communities as we face this unprecedented moment in our lifetimes.
Richard C. Shadyac Jr. is President and CEO of American Lebanese Syrian Associated Charities, the fundraising and awareness organization for St. Jude Children's Research Hospital.