As
St. Jude

survivor Hayley Arceneaux launches into space, our mission reaches bold, new heights
Inspiration4, an all-civilian mission with
St. Jude

as its charitable beneficiary, shows us that everything — even the impossible — is possible.

September 17, 2021 • 3 min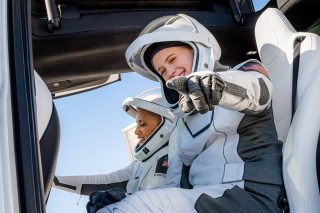 As Inspiration4 lifted off Wednesday night, launching St. Jude pediatric cancer survivor Hayley Arceneaux and her fellow civilian astronauts into orbit, and into history, I thought of our founder's words:
"They said it was impossible."
Danny Thomas spoke those words about St. Jude Children's Research Hospital. His dream of a hospital where children of all races, creeds and economic stations could be treated. His vision of a research institution that could cure diseases long considered incurable.
The impossible made possible. The possible made real.
Or, to put a face on it, bright and beaming — Hayley, the former St. Jude patient turned St. Jude physician assistant and now space explorer currently orbiting Earth in a mission to benefit the kids of St. Jude.
"They'll be able to see a cancer survivor in space," said Hayley, "someone just like them."
Just like Hayley, who has a titanium prosthesis in her left thigh bone after limb-sparing surgery for osteosarcoma, but who is a world traveler, having visited five continents.
Just like Hayley, who climbed Mount Rainier, hiking almost 10 hours one day through the snow in an I4 crew-bonding expedition.
And now, Hayley is in space, making not just history (youngest American in space, first pediatric cancer survivor, first person with an internal prosthetic, part of the first all-civilian mission to orbit), but making a difference. Inspiration4 is an unprecedented fundraiser for St. Jude, with mission commander Jared Isaacman pledging $100 million alone toward the $200 million overall goal. But more than that, the mission is the very definition of its name, inspiring people to live boldly and with purpose, to see the impossible not as a brick wall but — to use the language of space travel — a launching pad.
Hayley is deeply aware of the importance this mission has for our own mission. She knows the powerful influence it can have on our young patients. As she said on the eve of the launch, "I think we have a lot of future astronauts at St. Jude now."
Thursday, Hayley and the crew were interacting via video with the kids of St. Jude from space, answering patients' question about everything from the crew's sleeping bags, to what they're eating, to the view from 360 miles above the Earth.
Hayley, floating upside down and wearing St. Jude gear, was a picture of bliss in zero gravity.
"I was a little girl going through cancer treatment, just like a lot of you," Hayley told the patients. "And if I can do this, you can do this."
Think of it, savor it: Hayley in space. It sounded impossible to her, when the idea was first proposed, just a few short months ago. And then her inner world-traveler spoke up and said: "Yes, yes, thank you. Please send me to space."
That it's possible — that it's happening — is a testament to the restless spirit and relentless drive of the human race. It's a testament to Danny Thomas, who turned one man's dream into a global mission that's saved the lives of countless kids like Hayley. It's a testament to the world of science, and its ceaseless push to discover, explore and solve.
When Hayley was diagnosed as a 10-year-old in 2002, she had limb-sparing surgery instead of amputation. She received a titanium prosthesis that could be lengthened by a remotely controlled device, as she grew, saving her from multiple surgeries.
Today, that 10-year-old girl who remembers crying with her parents when she heard her diagnosis, who remembers saying, "I don't want to die," is 29 years old and literally flying circles around the Earth.
May this mission to space inspire us all to new heights — to bold discoveries — here on Earth. The kids of St. Jude, looking up to skies right now with stars in their eyes, deserve nothing less.