The mission of a lifetime
When Inspiration4 lifts off next week for the first all-civilian mission to orbit, it will carry with it the hopes and dreams of kids around the world.

September 09, 2021 • 2 min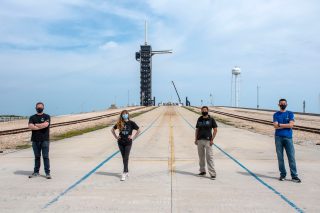 I vividly remember the Apollo 11 moon landing in 1969. For a world gathered around television sets rapt with attention, Neil Armstrong's walk on the lunar surface was the mission of a lifetime. It united us in a dream realized and proved human innovation and perseverance had no limits.
I was 12 years old, and the event captured my imagination, as I'm sure it did kids around the world. It promised us anything was possible.
Two generations later and we'll gather as a community around computers and smartphones next week to watch as Inspiration4, the first all-civilian mission to orbit, launches from Kennedy Space Center. The four-person crew on board will represent the pillars of Leadership, Generosity, Prosperity and, in the Hope seat: Hayley Arceneaux.
By now, everyone knows Hayley's story — she was diagnosed at 10 with osteosarcoma and found lifesaving treatment at St. Jude Children's Research Hospital. She became a physician assistant at St. Jude and next week will be the youngest American to visit space, and the first with a prosthesis.
At liftoff, the crew will lift up the spirit of thousands of kids in treatment today. Hayley said, "I'm getting to represent all these kids. Other survivors, kids going through the trenches going through treatment, and then, the kids that aren't with us. I'm representing all these kids, and it's a huge honor."