So far from home, families look to
St. Jude

and each other for comfort
Two families found more than a support system when their daughters were in cancer treatment. They found lifelong friends.

January 28, 2022 • 2 min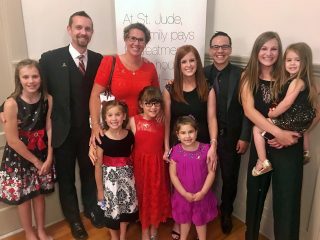 They met in the dining room at Tri Delta Place, the patient family housing facility on the campus of St. Jude Children's Research Hospital in Memphis. Two families who might never have met had it not been the darkest days of their lives.
Two families who, through pain and uncertainty, unfamiliar schedules and routines, found something else. Togetherness and solidarity. The understanding that it's okay to lean on someone. That, sooner rather than later, that someone will need to lean right back on you.
Macey and Avery were 7 and 4, respectively, when they came to St. Jude. Kids make friends quickly, don't they? Toys and play being ready-made icebreakers.
And in a corner booth of the dining room at Tri Delta Place, Courtney and Jason, Rachel and Isaac, opened up with each other. They became vulnerable. They bonded over their daughters' shared diagnoses. They comforted and laughed and cried together.
We see it time and again at St. Jude, and it's an aspect of treatment that might not be apparent amid a checklist of therapies, surgeries and medications: friendship.
At St. Jude, among new friends, fears are tempered by hope. "I knew this was the right place," Macey's mom, Courtney, said.
Avery's dad, Isaac, said, "We're very happy to be part of the St. Jude family."
These two families becoming an even larger family is the very essence of St. Jude and why it is so important to have on-campus housing. Togetherness is why more housing and gathering spaces such as the St. Jude Family Commons, generously supported by AbbVie, hold such an important place in the new six-year St. Jude strategic plan.
Domino's Village already rises from the ground here in Memphis. When it opens in 2023, this $110 million, 140-unit facility will offer 1-, 2- and 3-bedroom apartments where families can live comfortably during their child's stay. All at no charge to mom and dad. It will have creature comforts and necessities and offer a safe place within reach of care teams.
But it will offer something else as well. A feature we already see at Target House, Tri Delta Place, Ronald McDonald House and Parcels @ Concourse. Something difficult to quantify: community.
"You are able to share all this knowledge with each other and come up with amazing solutions — or at least feel like you're not so alone," Courtney said, adding, "It takes the anxiety and fear away from these trips because you are together."
So many families, so far from home, finding strength, comfort and hope from those in similar circumstances. They find lasting friendship. Macey's and Avery's families remain close to this day and visit each other regularly.
Over the past 60 years, St. Jude has grown from one small, star-shaped building into a massive campus of more than 60 acres. But St. Jude is more than concrete, glass and steel. It has a heartbeat, and the breath of friendship and love is in the air.
It isn't measurable, but it's there. And it's just one example of the kindness our supporters show kids in treatment so far from home. For their parents, whose sole instinct is to help and protect, you are the support they'll lean on in their darkest days.