Join me on Giving Tuesday Now, for
St. Jude

May 01, 2020 • 2 min
As easy as it can be to dwell on all that we've missed this spring, as May begins, I find my optimism ever invigorated by the way you continue to support the lifesaving mission of St. Jude Children's Research Hospital. I am especially looking forward to our new, one-of-a-kind new Giving Tuesday Now event, May 5. Please save the date and join us.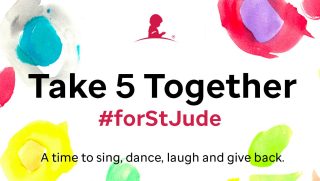 Normally reserved for the fall, Giving Tuesday was created in 2012 as a simple idea: a day that encourages people to do good. A truly global threat like COIVD-19 touches every person on the planet, so enter #GivingTuesdayNow – a special day of giving and unity on May 5 to raise critical funds needed for charities and communities worldwide like ours. For this day, we are inviting all of our supporters to "Take 5 Together" for St. Jude. Given all we are carrying as we balance work, life, family, school and more in the midst of this crisis with most of us at home, we think it's time we all took a break! The best part is while we pause for fun and inspiration, we can make a significant impact on the lifesaving work of St. Jude.
What is "Take 5 Together #forStJude?"
This four-hour, family friendly livestream event from 1-5 p.m. CT featuring celebrities and influencers like Michael Strahan, Drew Barrymore, Rio Roma, Chef Adrianne Calvo, Scotty McCreery, and of course the patients and families of St. Jude will be simulcast across our St. Jude channels on YouTube, Facebook, Instagram and Twitter. Follow us on social media to learn more about what you can expect to see and experience. Join us for all four hours or pop in and out and watch your favorite segments as we bring to life music, art, dance, food and fun with incredibly inspiring moments of hope.
Most importantly, it will be easy to give – on stjude.org, via your Donor Advised Fund or directly in the social platforms, including YouTube, Facebook, Instagram and Tiltify.
As I work from home during this crisis, I deeply miss walking the hallways and seeing the children and families relying on St. Jude. And yet, I am grateful knowing your support ensures dedicated healthcare professionals and scientists on campus can continue to provide lifesaving treatment and pursue research for cures. The compassion of everyday people built St. Jude, and we're grateful to know those who can, continue to give and provide for the children who need us most. It's your spirit of generosity for children that we will celebrate together next Tuesday.
Even when we're apart, your support keeps us together. I can't wait to all be together next Tuesday as we remember that together, nothing is impossible.
Richard C. Shadyac Jr. is President and CEO of American Lebanese Syrian Associated Charities, the fundraising and awareness organization for St. Jude Children's Research Hospital.