For mothers around the world,
St. Jude

is here with help and hope
When we celebrate Mother's Day, we honor the moms and mother figures who are the first line of protection, love and comfort to our children.

May 06, 2022 • 3 min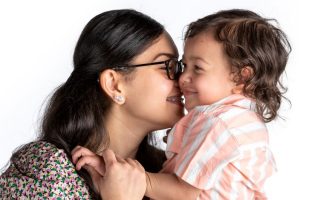 Claudia Blanco traveled more than 1,600 miles from Culiacán, Mexico, to St. Jude Children's Research Hospital in Memphis to get the care and treatment her daughter, Claudita, needed for acute lymphoblastic leukemia (ALL).
Emely traveled that far as well from her home in the Dominican Republic to St. Jude where her 6-month-old son, Eduardo, was treated for liver cancer that had already spread to his lungs. It was her first time flying off her Caribbean Island.
Natalia Vilcu rode a bus all night from Moldova to Romania to deliver a test tube full of her 13-year-old son's bone marrow for testing. Once it was determined Gheorghe had ALL, she took him to Italy — despite her own cancer diagnosis — for treatment.
A parent will go to any distance to save their child, to offer comfort and hope. It's why we celebrate our moms this weekend on Mother's Day in the U.S. I'll be remembering my own amazing mom this weekend and celebrating the incredible mother of my two kids.
Mother's Day was celebrated March 8 in Moldova. It's May 10 in Mexico and May 29 in the Dominican Republic. But the date doesn't matter because we celebrate moms year-round at St. Jude.
Moms and mother figures are so often the first line of defense when it comes to keeping kids safe, happy and healthy. We hear stories again and again of moms who first notice bumps and bruises, fatigue or a shift in personality.
When that diagnosis comes, when mom hears four of the most terrible words she can imagine — your child has cancer — St. Jude is here for her and her family. Whether providing care directly, or treatment derived from research shared with the global healthcare community, St. Jude has as its mission to impact more kids with cancer, and their families, around the world.
Claudita experienced snow for the first time while a patient at St. Jude. Today, she's married and has two kids of her own. And her mom, Claudia, because of the dire conditions she saw at local hospitals in Mexico and inspired by St. Jude supporters like you and the hope she found here, returned to Culiacán to help support pediatric oncology treatment at home.
Eduardo celebrated his first Christmas at St. Jude and Target House, a patient family housing facility. He was able to return to the Dominican Republic as a 2-year-old. "He has health and, as a mother, that's all I can ask for," Emely said.
Georghe, sadly, didn't survive his cancer. His mother was left heartbroken yet determined in her resolve as president of Life Without Leukemia, a foundation created so kids — and moms — in Moldova wouldn't have to go through what they'd been through.
Because no mother should have to bear the weight of losing a child to cancer, St. Jude will seek to impact many of the 400,000 kids with cancer around the world each year by raising survival rates for six of the most common types of childhood cancer from less than 20 percent to 60 percent — within this decade.
But we can only do this with you by our side.
At St. Jude, we celebrate moms like Claudia, Emely and Natalia, and all mother figures as the protectors and comforters of our kids. There is no greater love than a parent for their child, and the effortless, unconditional devotion of a mother is our touchstone here at St. Jude.
So, when times grow dark and the situation feels hopeless, we're so grateful for our dedicated supporters, here to lend a hand and a heart to moms everywhere.