St. Jude

commits $200 million to provide quality cancer medicines for kids around the world
Working with WHO, global medicines access platform could quickly impact as many as 120,000 young cancer patients in 50 countries

December 13, 2021 • 3 min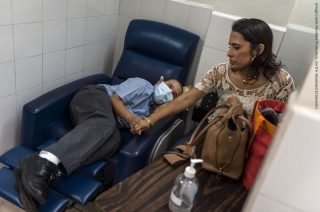 Doctors in Zimbabwe are sometimes forced to alter their treatment protocols for kids with cancer simply because the drugs they need aren't available.
It's the same dilemma that confronted an anguished mother in Moldova. Her plea to family and friends living abroad: help find the drugs doctors needed to treat her son.
"We were living in…the poorest country in Europe, where there are shortages in supplies and deficient quality of drugs," said Natalia Vilcu whose son, Gheorghe, died of acute lymphoblastic leukemia in 2019.
It's why St. Jude Children's Research Hospital will invest an estimated $200 million over six years to dramatically increase access to quality cancer medicines for children around the world in conjunction with the World Health Organization.
This global medicines access platform will be launched as a two-year pilot project, providing medication at no cost to 12 countries. By the end of 2027, it is expected 50 countries will receive childhood cancer medicines through the platform. It's estimated 120,000 children could be impacted within the first six years, according to an announcement from the two organizations.
Each year, an estimated 400,000 children worldwide develop cancer, but a majority living in low- and middle-income countries are unable to consistently obtain or afford cancer medicines. As a result, nearly 100,000 children die each year.
"Close to 9 in 10 children with cancer live in low- and middle-income countries," said Tedros Adhanom Ghebreyesus, Ph.D., WHO director-general. "Survival in these countries is less than 30%, compared with 80% in high-income countries. This new platform, which builds on the success of the Global Initiative for Childhood Cancer launched with St. Jude in 2018, will help redress this unacceptable imbalance and give hope to many thousands of parents faced with the devastating reality of a child with cancer."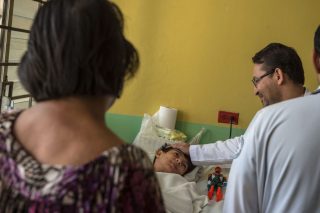 In a 2020 WHO survey, only 29% of low-income countries reported cancer medicines were generally available to their populations, compared to 96% of high-income countries. By consolidating the needs of children with cancer globally, the new platform — named the Global Platform for Access to Childhood Cancer Medicines — will curtail purchases of sub-standard and unsafe medicines.
The program will provide end-to-end support, consolidating global demand to shape the market; assisting countries with the selection of medicines; developing treatment standards; and building information systems to ensure that effective care is being provided. It's also expected to drive innovation. "With this platform, we are building the infrastructure to ensure that children everywhere have access to safe cancer medicine," said James Downing, MD, President and CEO of St. Jude.
This latest investment in improving care for children worldwide is another milestone for St. Jude, whose global reach is 178 institutions in 61 countries as part of the St. Jude Global Alliance. Representatives of many of those organizations have said they can't guarantee their young patients consistent access to medicines for even the most common forms of childhood cancer.
In Zimbabwe, for example, doctors can be forced to alter treatment protocols for patients based on what drugs are available, not what would be most effective, said Daniel Mckenzie, president of KidzCan, the nation's only non-profit foundation supporting pediatric cancer care.
That means many kids die. The overall survival rate for children with cancer in Zimbabwe is just 31 percent.
"If you have to speak to any parents, they would tell you they have sold their cattle, whatever reserves and stock they had just to try and survive."
Earlier this year, St. Jude announced its most aggressive strategic plan ever. The 6-year, $11.5 billion effort aims to improve survival rates by focusing on the hardest to cure pediatric cancers and by tripling annual spending to grow and train a global network of providers.
The medicines access platform is part of that new push. Much of the impetus is based on the experience of organizations that form the St. Jude Global Alliance.
"Unless we address the shortage and poor quality of cancer medicines in many parts of the world, there are very few options to cure these children," said Carlos Rodriguez-Galindo, MD, executive vice president and chair of the St. Jude Department of Global Pediatric Medicine and director of St. Jude Global. "Health-care providers must have access to a reliable source of cancer medicines that constitute the current standard of care. We at St. Jude, with our co-founding partners at WHO and many vital partners around the world, can help achieve that."
The World Health Organization and St. Jude Children's Research Hospital first collaborated in 2018, when St. Jude became the first WHO Collaborating Centre for Childhood Cancer and committed $15 million for the creation of the Global Initiative for Childhood Cancer. The initiative supports more than 50 governments in building and sustaining local cancer center programs. Its goal is to increase global survival rates for the most common forms of childhood cancer to 60 percent by 2030.