A new home for research collaboration at
St. Jude
Dr. Michael Dyer of
St. Jude

co-founded the Childhood Solid Tumor Network, and will spearhead research in the new advanced research center to help save the lives of patients like Slater.

December 11, 2020 • 2 min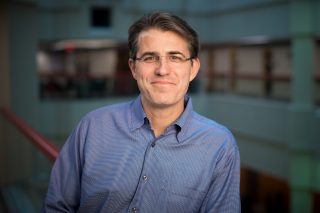 The question posed to Michael Dyer, PhD, Chair of the Developmental Neurobiology Department at St. Jude Children's Research Hospital, came late in the Q&A portion of a St. Jude donor webinar: "What do you like about being a scientist?"
It was posed by St. Jude patient Slater, with just the sort of wide-eyed wonder you'd expect from a 7-year-old who dreams of being a chef one day, but whose favorite subject in school is science.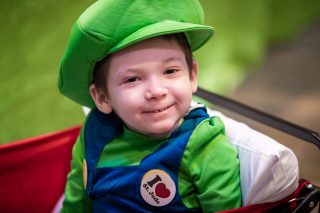 Dyer's answer was filled with just as much wonder: "There are those days you can come into the lab and see a piece of data or see an experiment and have a discovery that changes everything. You don't know when it's going to come, it's always a surprise, and it changes your understanding and maybe changes treatment for a kid with cancer. That excitement keeps you going."
Scientists, he went on to explain to Slater, "are very creative, you have to think in a creative, collaborative way." This collaboration, he said, is why he's chosen to base his career at St. Jude.
It's the sort of collaboration Dyer had with Sara Federico, MD, an associate member of the Department of Oncology at St. Jude. During Federico's clinical training 10 years ago, she spent time in Dyer's lab and the two floated an idea about a way for patients to donate biopsied or surgically removed tumors for further research.
"It was just an idea on the back of a piece of paper," he said. But what came of it is the Childhood Solid Tumor Network, the world's largest and most comprehensive collection of scientific resources for researchers studying pediatric solid tumors and related biology.
This spirit of collaboration will be on display in the new advanced research center, a $412 million, 625,000-square-foot treasure chest of state-of-the-art equipment and technology, including laboratories for the research of Developmental Neurobiology, Cellular and Molecular Biology, and Immunology. It will be home to some of the best and brightest minds in the world, joining together in an environment of purposeful cooperation.
Due to open next spring, those labs have the potential to produce developments that help save more lives in the furthest reaches of the world. The lives of kids like Slater, who came to St. Jude at just 4 years old with Stage IV neuroblastoma, one of the cancerous tumors studied by Dyer and treated by Federico.
Slater's mom, Shari, told donors that after 482 days of treatment — chemotherapy, immunotherapy, and proton therapy — she was able to take her son home. As they were leaving, he turned and said, "Thank you for saving my life."
He said it to the St. Jude campus at large, but might as well have been saying it to Dr. Dyer and Dr. Federico, and to each and every one of you. Because of you, Slater's life is full of possibilities as a scientist or a chef, who knows!
Richard C. Shadyac Jr. is President and CEO of American Lebanese Syrian Associated Charities, the fundraising and awareness organization for St. Jude Children's Research Hospital.