Life-changing science and generosity on display at
St. Jude
Gideon gives toys to his friends and fellow patients to help them smile. It's a kindness that makes us all better, and fuels a mission.

June 03, 2021 • 2 min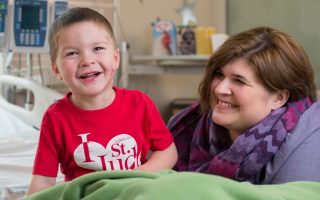 The poet Maya Angelou said, "I have found that among its other benefits, giving liberates the soul of the giver."
Danny Thomas told us: "Success has nothing to do with what you gain in life or accomplish for yourself. It's what you do for others."
And then there's Gideon. "I just wanted them to know that I saw they were sick and the car might make them smile."
Gideon came to St. Jude Children's Research Hospital from his home in Washington to be treated for melanoma. As part of his treatment, he had a large portion of his cheek cut away. Devastating at any age, but Gideon was only 3 years old.
Three years old, yet his mission — his purpose, to hear him tell it — was to give away his own toy cars to other patients to "make them smile." Because friends, relatives and community members loved that sentiment, and donated more and more cars, Gideon has given away thousands, producing smiles everywhere he goes.
We learn so much from these kids every day. None of us — doctors, scientists, fundraisers — are too old or too educated to listen to the heart of a child.
It makes us better people and, I hope, a better society.
Gideon's mom said, "While I felt like I had no control, he simply gave what he had."
It's easy to feel we have no control, isn't it? The past year has proven just that as business, entertainment and entire healthcare systems were disrupted.
At St. Jude, thanks to our supporters, we never lost focus. We can't, not even for a minute because the questions of life and death being addressed can be overwhelming in themselves: 400,000 new cases of childhood cancer globally each year, less than 20 percent surviving in low- and middle-income countries.
This is why you — the more than 11 million donors and 1 million volunteers willing to give with the same generous, selfless spirit of a child — are so crucial and so revered here at St. Jude.
It's your giving spirit that fuels initiatives like St. Jude Global and its endeavor to raise survival rates around the world for six of the most common types of childhood cancer from 20 percent to 60 percent by 2030. Because of your generosity, St. Jude has recently committed even more resources to that effort.
From the St. Jude mission is born more than just cutting-edge science, research and cures for some of the most insidious childhood diseases. Kindness, caring and altruism bloom from the roots of giving as well.
Like the science and research, the generosity of those serving the mission is shared throughout the world. Shared as hope and love and possibility. It's a kindness on display at our dinners and galas, fitness events, streaming through St. Jude PLAY LIVE, and among corporate partners and Partners in Hope alike.
And those beautiful acts of selflessness can be found here as well, in the hallways of St. Jude, and the smiles of patients like Gideon and his friends.