Purpose personified
Two examples of strength and resolve provide so much hope during such a difficult year.

June 26, 2020 • 3 min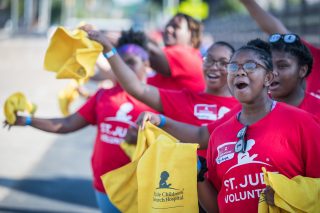 One of the things I've missed most from our weeks in quarantine, and now because of social distancing, is the energy and optimism I absorb from being around other people.
We have so much to talk about now; so much need to relate to one another. And, honestly, there's no commensurate experience online, no matter how advanced the technology. Pixels are no match for people.
The mission of St. Jude Children's Research Hospital is, after all, powered by human spirit and connection. It's been a unifying force around the fundamental belief that all people, especially sick children, should be treated equally, with dignity and respect. It was our founder Danny Thomas' belief then. It's our clarion call now.
So, year after year, one of the best parts of my job is meeting and being motivated – inspired, honestly – by volunteers and donors who care so deeply about the well-being of children they'll never meet from places they'll never visit. All children.
Even from a safe distance now, your demonstrations of empathy and compassion have kept me grounded and hopeful during such a difficult year. Through you, our remarkable supporters, I see lives of clarity and unwavering commitment, even amid so much heartbreak.
There's a popular new name for your unifying actions – it's called 'purpose' – but our collective mission to help kids everywhere has been lifted by these innate human qualities for more than 50 years.
So I know purpose by other names you may have never heard.
Like Gary Washington, a hospital worker in the Bronx whose passions were food pantries, soup kitchens and the kids of St. Jude Children's Research Hospital. It was Gary's job to clean rooms of COVID-19 patients, and we lost this generous soul to the pandemic at only 56 years old.
Like his widow, Rosalyn Washington, who volunteered alongside her husband and plans to honor him by keeping that work going.
"Once I can get through a day without crying and things open back up, I'll be back out there."
Like 81-year-old Nancy Caldwell of tiny Scott City, Missouri, population 3,000.
For 50 years now, this amazing woman, a retired physical education teacher, has raised money for St. Jude, coordinating the St. Jude Math-A-Thon and St. Jude Trike-A-Thon programs at her school, initially because she lost a student to cancer and it touched her heart. And then for decades on end – even after her retirement in 1992! – because she saw the impact of her dedication during a tour of the St. Jude campus in Memphis.
When Nancy turned 80, she did what people in Scott City surely must have expected. She threw herself a party and invited friends, family and former students. No gifts accepted. But donations to St. Jude strongly encouraged. She raised $2,000 that day alone.
We'd say today that Nancy leads a purpose-driven life. But I much prefer her own, more colorful description of a life lived with such intentionality: "80 years of livin', 50 years of givin'."
Oh, Nancy and Rosalyn, how I'd love to give you the biggest hugs of appreciation right now. If only we could.
Richard C. Shadyac Jr. is President and CEO of American Lebanese Syrian Associated Charities, the fundraising and awareness organization for St. Jude Children's Research Hospital.