After losing husband to COVID-19 in NY,
St. Jude

backer vows to continue mission

New Yorkers Gary and Rosalyn Washington began volunteering nine years ago through Iota Phi Theta, a St. Jude partner and one of the "Divine Nine" historically black fraternities and sororities.
Gary Washington could scarcely walk through his Bronx neighborhood without drawing a throng of kids clamoring to be entertained by the larger-than-life character they called "the magic man." He didn't disappoint, either, generating giggles as he pretended to pull coins from behind his ear or blow them out his nose.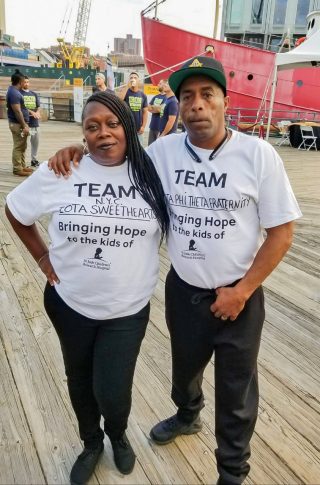 "He was a really corny comedian," said his wife, Rosalyn.
The 56-year-old lifelong New Yorker had a sensitive side, as well. Once, while volunteering at a radiothon benefiting St. Jude Children's Research Hospital, he met a young girl suffering from cancer and struggled to keep her from seeing the tears welling in his eyes. His own mother had died from cancer, and all these years later, Rosalyn said, "it still affected him."
Washington, who died last month from COVID-19, shared with his wife a passion for helping people – be it through community service or supporting food pantries, soup kitchens and philanthropies.
One cause, however, stood out. "We gave most of our time to St. Jude," Rosalyn said.
It began in 2011, when Gary joined Iota Phi Theta, a historically African-American fraternity that is a St. Jude partner and one of the black international Greek-lettered fraternities and sororities known as the "Divine Nine" for their commitment to service.
Through the fraternity, Gary and Rosalyn volunteered at radiothons, scavenger hunts, galas and other events benefiting St. Jude. They got to know the staff of the regional office of ALSAC, the fundraising and awareness organization for St. Jude, and helped with mailings.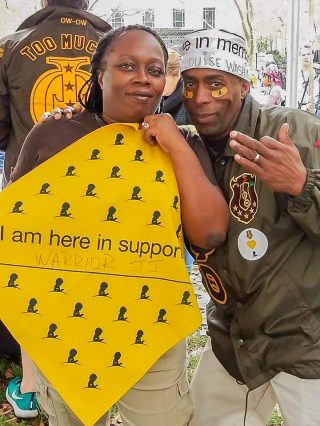 "It just took off from there," Rosalyn said. "We were available, so we went."
The reasons for the couple's support were many: They liked the fact that no family receives a bill for treatment, travel, housing or food. They also bonded with the patient families.
Although he worked in environmental services in a Manhattan hospital, Gary harbored dreams of going back to school to become a radiology technician.
Then came the COVID-19 pandemic, with NYC quickly becoming an epicenter.
Since Gary's job included cleaning the rooms of infected patients, he made sure to wear goggles, gloves and other protective gear, his wife said. "One thing I know: He was being as careful as he could."
Nonetheless, the virus struck. First came a slight cough that quickly disappeared. Then the body aches and fever and eventually hospitalization.
He died April 8, a day before his and Rosalyn's wedding anniversary.
In the aftermath, Rosalyn, 52, acknowledges her interest in philanthropic causes waned. "It dampened my support for everything, to tell the truth," she said.
But Rosalyn's sister convinced her that Gary – her biggest cheerleader – would want her to carry on the couple's causes, especially St. Jude. Remembering the love for children that she and Gary shared, Rosalyn said she will continue her support.
"Once I can get through a day without crying, and things open back up, I'll be back out there."