Resolution: Live with purpose, act on kindness
Inspired by supporters like Dotti, let's spread the love and care Danny Thomas promised to friends, neighbors and kids in need.

January 05, 2022 • 2 min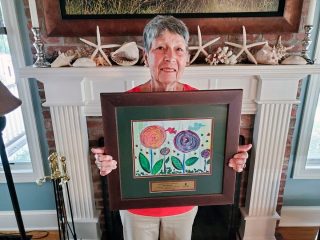 In these first days of the new year, let's resolve to be kinder and more caring. Let's resolve to take care of ourselves, but also to look out for our neighbors and those in need the world over.
Let's resolve to be more like Dotti.
Dotti has been a caring soul her entire life. A devoted partner for more than 50 years of marriage. And a servant leader for 40 years through her association with Epsilon Sigma Alpha in its support of St. Jude Children's Research Hospital.
She's made a priority of kindness. She's lived a life of purpose.
There's no better time to begin such a life than in the new year, and as we celebrate the 60th anniversary of St. Jude.
It was years before opening day in February 1962 when Danny Thomas walked into a Detroit church, down on his luck, penniless and with a new baby in the hospital. He prayed to St. Jude Thaddeus, asking the patron saint of hopeless causes to show him his way in life.
Danny, of course, became a wildly successful entertainer. In gratitude, he built St. Jude Children's Research Hospital in the fervent belief no child should die in the dawn of life.
It's a story you've heard before. It's a story Dotti may have heard from our founder himself four decades ago when she and her ESA sisters visited St. Jude and met Danny in person. That's the moment the mission took hold for Dotti. "She was hooked for life," her husband, Cal, said.
I lean on Danny's story myself, especially as the calendar page turns to a new year and the challenges — and possibilities — of a new year present themselves.
This year, I also look to Dotti's story of purpose and love in action.
She volunteered with yard sales, car washes and radiothons in support of St. Jude. She helped create a local children's garden. Lived a life of service as an ESA chapter officer, state officer and state chairperson for St. Jude fundraising in Texas and North Carolina.
Dotti is truly an inspiration, but there's extra weight to her story. I recently received a letter from Cal. Dotti has Alzheimer's, he wrote.
They met in high school and married shortly after — more than 50 years of seeing each other through good times and bad. Cal wanted to honor that commitment and their life-long love, and the most meaningful way, he thought, was with a donation to the cause she held so near to her heart.
I can't think of any greater inspiration for the new year than this example of commitment and compassion. I'm so grateful to Dotti and Cal for all they've done, and for including St. Jude in their love.
As we welcome the new year and celebrate the 60-year legacy of St. Jude, we know that legacy lies in the future and a day when no child dies in the dawn of life.
We can only continue the good work with supporters like Dotti by our side. I hope you'll follow Dotti's example and resolve to find purpose this year, to act on kindness and to share your love and care with the world.
In deepest gratitude, I wish you all a safe and happy New Year.