St. Jude

— and the world — celebrate 60 years of fighting childhood cancer, other life-threatening diseases, together
When thousands gathered to see Danny Thomas give his dream to the world, two people in the crowd would come to represent millions more over six decades.

February 03, 2022 • 3 min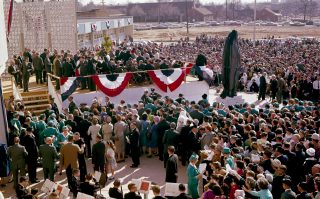 On Feb. 4, we celebrate the day in 1962 when Danny Thomas unveiled a statue of St. Jude Thaddeus and gave St. Jude Children's Research Hospital to the world.
Jack Vosse was there. He wasn't supposed to be. "I crashed it," he said many years later. He was a college student then, tagging along with his dad on that unseasonably warm winter day to see what all the fuss was about.
What young Jack saw that day was a spectacle of selflessness. Empathy and compassion on display. What began that day — for Jack and many others — was a lifetime of support for St. Jude.
Maurice Walton Tate was there, too. But, as a nurse going to work, she was supposed to be. Although in some respects, as an African-American woman in 1962, in the heart of the segregated South, her attendance may not have been guaranteed. After all, there were no integrated children's hospitals in the region.
Not until February 4, 1962. Not until Danny Thomas unveiled a 10-foot marble statue of the patron saint of hopeless causes to give the world a glimpse of hope.
Hope for some of the sickest kids in the world. Hope for their parents who feared treatment of a rare pediatric disease would cost them more than they made in a year. Hope for Black women and men who thought they'd never see their children treated with the same care as white children.
That day in 1962, Mrs. Tate, as she was known to friends and family and the kids in her charge, walked through the front door with Danny Thomas as one of the first Black nurses to work at St. Jude.
Jack Vosse and Mrs. Tate probably never encountered one another that day among the thousands on hand. But they represent the very best of this lifesaving mission. And their legacies have lasted, intertwined with each other and with Danny's dream.
Jack went on to join the U.S. Air Force and continued to give annually to St. Jude. After retiring as a Lieutenant Colonel, and following the death of his wife, he began volunteering. By his estimation, he's toured St. Jude at least 50 times. "I can take any conversation and turn it to St. Jude," he said.
Mrs. Tate's son, Odell Thompson, can use a single word to describe his mother on opening day: courage. "My mother was only 5-foot-2, but you'd have thought she was 9 feet tall," he said.
She had to be. For her community and for her family. Her daughter had died just shy of her 10th birthday of complications due to sickle cell disease. The first research grant St. Jude received was to study the disease and Mrs. Tate's work would help establish what has become one of the largest sickle cell programs in the country.
On a mild February day 60 years ago, Danny Thomas told an electrified crowd, "It took your hearts and your loving minds and your generous souls to make this fabulous dream come true."
He was talking to Jack Vosse, a college student who, after serving his country, would continue to serve those in need through donating and volunteering. He was talking to Maurice Walton Tate, a nurse who broke barriers and whose compassion and care are the very foundation St. Jude is built upon.
But he was also talking to you. Whether you were in Memphis that day or not. Whether you were even born or not. When Danny Thomas talked of loving minds and generous souls, he was speaking to every donor, supporter and volunteer to come. To every doctor, researcher and nurse.
Because to achieve a dream that envelops the world, the world must unite behind it.
For decades of coming together for the lifesaving mission of St. Jude Children's Research Hospital, I offer my deepest gratitude and look forward with such hope and optimism to the next 60 years.