Take what you love and use it for good
At
St. Jude

the love of art and making art fills hearts with hope and the inspiration to live life to the fullest.

October 21, 2021 • 2 min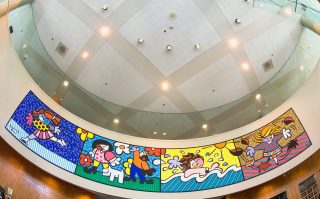 Enter the front doors of St. Jude Children's Research Hospital, just past the original statue of St. Jude Thaddeus, and the first thing to greet you is sunshine. Not just the sun, but also ice and autumn leaves and spring flowers.
It isn't a confusion of climate, but light and color and, well, hope.
In the lobby of the Patient Care Center is a beautiful, four-panel mural by our good friend, the world-renowned artist Romero Britto. Titled Seasons of Miracles, I can't think of a better way to be welcomed to St. Jude.
Families from around the world will find artwork, and the hope and promise it portrays, doesn't stop there in the lobby. The hallways and waiting rooms, the medicine room and blood donation center are full of vibrant paintings, photos and sculptures.
Britto hasn't stopped there, either. He's put his talent to work on one-of-a-kind pieces inspired by the Inspiration4 mission to space auctioned in benefit of St. Jude.
For Britto, I suspect, creating art is a labor of love. We should all be so lucky to love what we do and do what we love for a living. For me, that love is all part of working for ALSAC, the fundraising and awareness organization that supports the St. Jude mission.
St. Jude founder Danny Thomas said, "Those who work for the good are as those who do the good." It is truly a privilege to work for this mission and have even a small part in helping kids and families around the world find the hope they crave in times of stress and worry.
It's humbling, too, to have so many talented people join us in the good work — from my colleagues to musicians and athletes and everyday supporters using their gifts to give back.
This idea of taking what you love and using it for good is such a beautiful principle, and one I'm reminded of every time I see Britto's Seasons of Miracles.
I think of patients and parents who arrive at St. Jude from across the country or around the world. They're scared and worried about what comes next in their cancer journey. It's there at the registration desk that they're greeted with a warm smile, a comforting word and that vibrant painting.
I hope the mural and the artwork throughout the St. Jude campus puts smiles on our kids' faces, gives them hope and, hopefully, takes some of the gravity from days of treatment.
But I also hope it inspires them to make their own art. To chase their own dreams, whether it's to be a doctor or nurse, an astronaut, painter or sculptor.
What we want beyond survival for sick kids everywhere is for them to thrive, to live their lives to the fullest and to realize their dreams. Dreams that might have started with something as simple as a painted picture.
Britto has described his artwork as a "visual language of love, hope and happiness." In it, we see the promise of what awaits our patients as they walk beneath that mural again, this time on their way out and back to a life where colorful dreams await.