The future for kids with cancer is intertwined with generous supporters
Two stories — a
St. Jude

patient and supporter — illustrate why we must do all we can to support this lifesaving mission.

March 18, 2022 • 2 min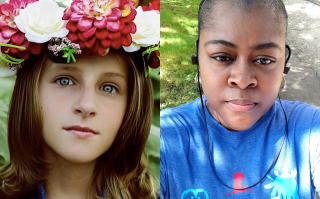 Bailey is busy these days. Her life is filled with high school, mock trial, volleyball and family. And she's busy planning for the future. Bailey wants to join the U.S. Marine Corps like her dad, become a lawyer and, ultimately, pursue a career in government.
And why not? It will take hard work, dedication and a commitment to being all she can be. If her life so far has proven anything, it's that she has that spirit and drive within her.
Bailey was diagnosed with Wilms tumor, a cancer of the kidneys, when she was just 5 years old. At St. Jude Children's Research Hospital, she underwent three years of treatment that included radiation therapy and chemotherapy.
Today, she's free to dream and grow and become the person she's meant to be. Her dad's dream is simpler — "I want Bailey to live a happy, healthy, long life" — yet exactly what we want for all kids with cancer.
That Bailey is alive today to study and play and make plans is thanks to all of you who support this mission through monthly donations and volunteering and participating at St. Jude fundraising events.
We're grateful for supporters like Sandra Aguilar, a teacher in the Bronx, N.Y., with a soft spot for children and the belief that everyone deserves a chance. She participated in her first St. Jude Walk/Run event in 2015, raising over $300.
After a visit to St. Jude in 2019, Sandra said, "We have to do more. We have to."
So, every year since that first St. Jude Walk/Run, she's expanded her goal, and invited more and more of her Sigma Gamma Rho sorority sisters to join the team. Her chapter — Delta Nu Sigma in Mount Vernon, N.Y. — raised more than $12,000 at the last event, the most of any chapter.
And this year, Sigma Gamma Rho has pledged $1 million for St. Jude and will be one of a handful of sponsors of the national St. Jude Walk/Run, the first membership-based organization to do so.
Young women like Bailey and Sandra hold the future in their hands. Bailey is looking forward to college where she'll make friends, share the story of her St. Jude journey and, hopefully, connect with generous networks in the way Sandra did. Sandra is planning a wedding and, as only someone with the drive and heart to do more can, she's incorporated St. Jude into the occasion, asking guests to help make confetti for patients' No More Chemo parties.
This is the uplifting spirit of the St. Jude mission and the way it unites people — even people who have never, and may never, meet each other. When supporters like Sandra work toward the future, it allows patients like Bailey the opportunity to plan for a future.
By coming together in this spirit for this purpose, we can bring more people into our St. Jude family and impact more kids and families here and around the world.