Sigma Gamma Rho 'ambassador' Sandra Aguilar lives her values for
St. Jude
Her sorority, a longtime supporter of the mission, pledges to raise $1 million this year.

March 07, 2022 • 4 min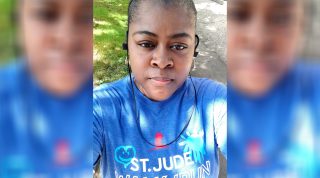 Sandra Aguilar is a teacher at P.S. 182 in the Bronx, where she advocates for students with disabilities to get the same opportunities as everyone else.
Sandra believes everyone deserves a chance. The same chance.
It's why Sandra is such an ardent supporter of St. Jude Children's Research Hospital.
She got involved with St. Jude through Sigma Gamma Rho Sorority Inc., a historically Black sorority and international collegiate and nonprofit community service organization, which has supported St. Jude for four decades.
This year, the sorority has pledged to raise $1 million for St. Jude and will be one of a handful of sponsors of the national St. Jude Walk/Run, the first membership-based organization to do so.
Sandra joined the sorority in 1996 while a student at Bloomfield College in New Jersey. She's so enthusiastic in her support of St. Jude that her sorority sisters in her Delta Nu Sigma chapter in Mount Vernon, New York, call her the "St. Jude Ambassador."
Sandra saw first-hand what was at stake.
Sandra did her first St. Jude Walk/Run in 2015. She's a city girl, born in Harlem and a lifelong New Yorker, but decided to participate in the event in Stamford, Conn., a half-hour drive away. It would be less crowded than the one in New York *City *— and easier to find a parking spot.
That first time, Sandra walked by herself, setting a goal of raising $192.22, in honor of 1922, the year her sorority was founded. She asked friends and family to donate and raised $322.22.
"I can do more," Sandra thought.
Every year since, she's upped her fundraising goal and recruited sorority sisters — three, and then seven, and then 20 — to walk with her. Her growing team set goals of $3,000, and then $5,000, and then $7,000, in honor of the sorority's seven founders, and always surpassed them.
In February 2019, Sandra and another sorority sister, Dawn Mason, were invited to visit St. Jude in Memphis, her first time in the city.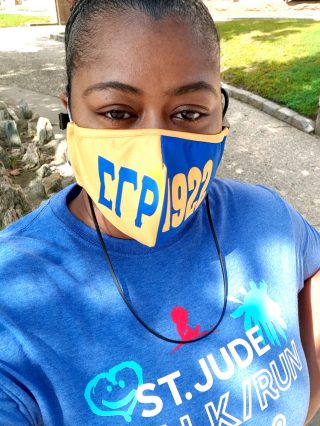 Sandra learned about the breadth of work happening at St. Jude — its discoveries, research and treatment protocols. She attended workshops on fundraising and helped make confetti for No More Chemo parties for patients finishing treatment.
She listened to a doctor at St. Jude, who talked about the children who didn't make it and how they found reasons to celebrate right up until the end.
"That was it. That was the highlight for me," Sandra said. She was determined: "We have to do more. We have to."
She toured St. Jude and met staff, patients and their families.
A teacher for 22 years, Sandra has a soft spot for children. She had to resist hugging the youngsters with IV poles trailing behind them or curled up with stuffed animals in little red wagons.
"It was heartbreaking to see that," Sandra said. But somehow it was uplifting, too. With all they were going through, "they still smile," Sandra said.
Like her students, these children needed her.
"I just can't stop talking about St. Jude," Sandra said.
She is getting married this summer, and she'll have paper squares and hole punches at her reception so guests can make confetti and bag it for her to send to St. Jude for patient No More Chemo parties.
Her fiancé, Ewonnu Campbell, is on board. His mom is a longtime St. Jude supporter.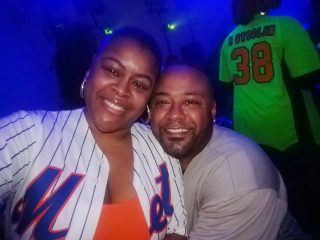 Everyone who knows her knows her commitment to St. Jude. "Let's not sugar coat this one," Sandra said, laughing. She'll ask for donations, too.
It's not hard to ask for money when it is for St. Jude.
Sandra is her chapter's team captain for the St. Jude Walk/Run and speaks endlessly about St. Jude at chapter meetings. Her enthusiasm is contagious.
She texts encouragement and reminders to her fellow walkers: "Hey Soror, you are only $80 away from goal. Think you can do that in the next 24 hours?" Her sorority sister texted back, "Done!"
Her chapter, one of the sorority's smallest with 30 or so members, raised $12,432 during the last St. Jude Walk/Run, the most of any chapter.
"I'm so proud of my dynamic chapter," Sandra said.
Equitable care in an inequitable world
She's proud that St. Jude has affiliate clinics across the country and freely shares the breakthroughs it makes.
In conjunction with the World Health Organization, St. Jude announced in October that it will invest an estimated $200 million over six years to dramatically increase access to quality cancer medicines for children around the world.
"That makes it equitable," Sandra said. It's what she and her sorority are working for, an equitable world.
Her visit to St. Jude gave her insight on the need for care for children of color who are battling cancer and other illnesses, including sickle cell disease. St. Jude has one of the largest pediatric sickle cell programs in the country.
Danny Thomas founded St. Jude, the first fully integrated hospital in the South, to help all children, regardless of race, religion, or a family's financial status. Because of supporters like Sandra and her sorority, families never receive a bill from St. Jude for treatment, travel, housing or food.
Danny Thomas shared Sandra's belief: Everyone deserves a chance. The same chance.