The Purpose that Unites Us
Sixty voices tell a single story of support, hope, the power of dreams and a common purpose.

February 09, 2022 • 2 min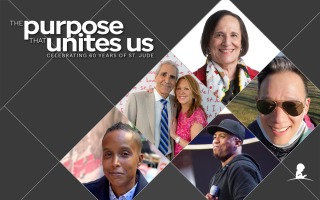 Imani Brown implores us to believe we can make a difference. To "believe that you can do something they tell you you cannot do."
It's the very position Danny Thomas found himself in more than 60 years ago as he began to put a team of supporters, healthcare professionals and business leaders together to explore what would become St. Jude Children's Research Hospital.
"They told me it would be impossible," Danny said. Chasing his dream, he was assured, was a task which would break his heart.
In fact, it would be just the dream a changing world needed.
Sixty years later — 60 years of cultural shifts, political chasms, economic upticks and downturns — and the mission of St. Jude continues to provide a purpose uniting us all.
To celebrate those 60 years, we've curated voices from the world over to help tell a story. One of unity and purpose. A story of perseverance and promise. One of hope for tens of thousands who might have felt otherwise hopeless.
Through The Purpose that Unites Us, you'll hear from supporters, patients and family members, survivors, bereaved families, researchers, caregivers, fundraisers and board members and the CEO of St. Jude.
All with a singular purpose.
Sixty voices speaking as one, unified by groundbreaking science and the responsibility to share research with the global scientific community. Because this idea — this task of Danny's — is larger than any single one of us.
You'll hear from Tim Wang, a supporter who contributes so he can help leave the world a better place. He does so in the shadow of his parents' example, and for his young son's future.
Maria Chandler, who moved to the U.S. mainland from Puerto Rico and has volunteered as a Spanish-speaking interpreter for St. Jude for more than 35 years. Volunteering, she says, "is part of my life and part of my heart."
Marlo and Tony Thomas share a heartfelt tribute to their dad and his incredible legacy of love and healing.
And award-winning gospel recording artist Anthony Brown, who takes us along on the red carpet and the moment he most looks forward to: meeting a St. Jude patient. "St. Jude taught me a lot about that village of people around you," he says. "That they all have a little faith, a little hope and a little joy, that does so much for the healing process."
Theirs is purpose larger than self.
And it's the stuff of dreams.
Imani dares us to "dream a dream that seems a little too big for this world."
A dream like Danny's. A dream that lives inside each of us.
I hope you'll listen to and share these stories. I hope that, in them, you find a connection with someone who speaks to your purpose for generously supporting St. Jude. By uniting behind this mission, we will treat and defeat childhood cancer and other life-threatening diseases, and make the impossible, possible.