When communities rally around
St. Jude,

kids everywhere benefit

The unifying spirit of mission connects a moped-riding, high school teacher to a bride on her wedding day and kids in around the world.

March 11, 2021 • 2 min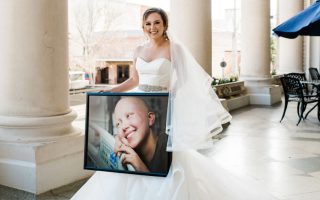 It's a round trip of 1,200 miles from Clover, South Carolina, to St. Jude Children's Research Hospital in Memphis. Each year for 12 years, as part of a fundraising event, teacher Frank Falls has completed the route on his moped, carrying with him nearly a million dollars in total and the heart and soul of Clover.
Frank said, "The good thing is that we've grown from being a school to a community organization, so we have people of all ages throughout the community thinking of ways to raise money…People give because of the kids at St. Jude."
The St. Jude mission has that ability. It doesn't just unite us but, especially welcome in these times of division and concern over health and safety, actually creates community.
Sometimes that community is the size of a city. Take as an example Minden, the Louisiana town of 12,000-plus, that has rallied around St. Jude for 45 years. Its annual auction raised a record-breaking $1.6 million last month, virtually and in the middle of a pandemic.
Community can be as intimate as a Zoom call with a group of friends to play Lotería, Mexico's centuries-old version of bingo, and make each other smile.
And sometimes community begins with just two people, and a second chance. Hillary Husband was married over Valentine's Day weekend. It's a wedding that might not have happened at all if it weren't for someone she didn't even know, someone who was not a part of her community. But we're all community when it comes to saving kids' lives.
Rob Vadnais donated the bone marrow that helped save Hillary's life when she was in treatment at St. Jude for leukemia. Their connection, though anonymous at the time, was a community waiting to happen. It was a community born of need and of a lifesaving kindness.
When Hillary finally met Rob at her wedding, she said…well, she said there were no words. Because how do you thank someone for saving your life?
There's an Amelia Earhart quote on the wall of the ALSAC headquarters lobby that inspires and motivates us all in what we do for St. Jude. I turn to it sometimes when I have trouble finding the right words myself. "A single act of kindness throws out roots in all directions, and the roots spring up and make new trees."
When we unite to help children in need — kids we might not even know — the roots of community take hold. Frank Falls has a lifetime of memories and new friends along the road from South Carolina to Memphis. Thousands of kids around the world have second chances at life because of what he and communities along the way have built around the St. Jude mission.
And Hillary and John have each other, in good times and bad, thanks to a community which includes all of you, our St. Jude supporters.