Little Minden Leads the Way
For decades, the residents of a small town in Louisiana have made it their life's work to support the lifesaving mission of
St. Jude

.

February 12, 2018 • 7 min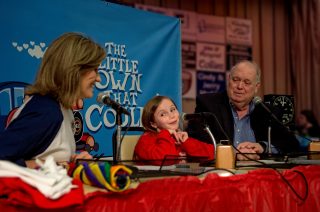 Your first glimpse of the place, driving south into town, is a Baptist church steeple. Head downtown, in the shadow of the water tower, and you're driving on a brick street past a barber shop with a striped pole out front, past an auto parts store flanked by American flags.
Looking for the very image of a quaint Southern town? Visit Minden, La. (Pop. 12,577). But sleepy? Not Minden. It's too busy raising money for St. Jude Children's Research Hospital.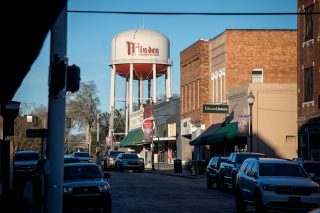 The "little town that could" — to borrow the theme of this year's 42nd Minden St. Jude Auction — has raised $18 million during more than four decades of devotion to a hospital 315 miles and two states away.
In recent years, the auction — actually a four-day, televised festival that includes a half marathon and chili cook-off — has grown into a $1 million-plus annual event.
This year's pulled in a record $1,544,919, driven by the raffling of everything from a 2018 GMC® Yukon to a Louis Vuitton® purse to a custom-made 18-foot playhouse styled as a train caboose.
Small wonder that little Minden is considered the nation's leader in per capita giving to St. Jude — more than $120 per resident.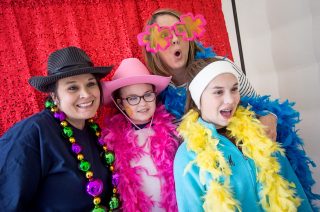 "Small town, big hearts," said auction volunteer Haley Robinson. "Isn't that what they say?"
It all began with a little girl who died, and a father who did more than grieve.
"She was a happy, normal little girl," said Frank Treat of his daughter Anne, "until she got sick."
First came the diagnosis — acute myeloid leukemia (AML). Next came a referral to a Memphis, Tenn., hospital that Frank knew next to nothing about, a hospital — St. Jude — that would become something of a second home.
"That first year I virtually wore out an automobile back and forth," Frank said. "We would leave on a Monday, go to the hospital and spend two or three days in Memphis, come home, end of the week, just before the weekend. Kind of catch our breath. Wash clothes, recuperate a bit. Sometimes get up the next Monday and do it again. It was a tough deal."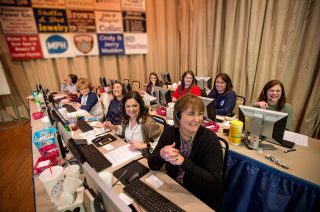 Anne lost her 18-month battle with AML in 1975. She was 5. After Frank grieved, he found himself ready to move on — but not to let go.­­­­
"I just felt an obligation," he said, "to do something for the hospital."
And so, in 1976, what would become a fundraising phenomenon had its modest start, raising $10,000 as a one-day radiothon on local KASO. By 1992, a headline in the local newspaper read "St. Jude auction sets record," with more than $116,000 raised in what had grown into a three-day event.
In 2006, the headline read: "$703,604 — Definitely a record that will be hard to break."
By 2016, that total was doubled.
The fabric of a community
"We had always been donators to the auction," said Tina Haynes, sitting in her home outside of Minden, talking about St. Jude and her son, Stanton. "It's what you do.

"So when the pediatrician came in and said, 'It's a tumor,' the first thing we said was, 'We want to be at St. Jude. Whatever we have to do, get us to Memphis.'"
Participants take part in the 10th annual Minden Run for St. Jude, one of the events held during auction weekend.

Hundreds of volunteer signatures are seen on a board with the phrase, "The Little Town that Could," the theme of the 2018 Minden St. Jude Auction. More than $1.5 million was raised during this year's event.

Local students watch the televised live auction in support of St. Jude.
This is what it's like in Minden, because of what Frank Treat started and a whole community has sustained. St. Jude is woven into the fabric of the place. Kids are raised on the auction, by their parents and grandparents, by their schools.
It's a source of local pride, and, for a stranger in town, the ultimate conversation starter — in the Western Auto store, or down the street at the Roma Italian Bistro.
"Well, I want to say it's like Mayberry," Melissa Brown, auction chairman, said of Minden. "Everybody knows everybody, or you can make a connection pretty easily.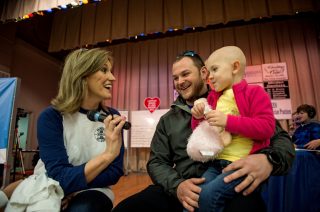 "It would be rare if you talked to anybody in Minden that they didn't know about the auction, or have not participated in the past. Because it's just a big deal."
Brown was in high school when the auction began. The Treats were family friends. She's been involved for so long she can't remember her first role, whether it was answering phones or filing paperwork. Later she was in charge of merchandise. "One thing led to another," she said, and now she leads an operation with some 400 volunteers.
Laura Spillers and Haley Robinson are in their third year together designing and decorating the annual playhouse that's raffled off. This year's was a caboose built by more than two dozen Minden firemen. It had custom ironwork, a sliding barn door, bunk beds (a toy train track ran around the top bunk), a Murphy table, you name it — all the bells and and whistles, befitting the train theme.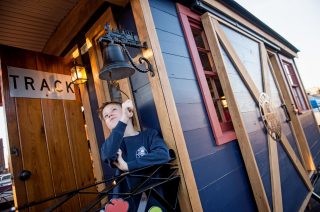 The trailer it rested on was worth $6,000 alone, to say nothing of all that iron, wood and workmanship required for the caboose. For a $10 raffle ticket, it could have been yours.
Spillers, who started with the auction answering phones, describes her joy at being asked to design the playhouse this way: "I squalled like a baby."
Robinson remembers tagging along to the auction as a little girl with her mother, who worked the phones.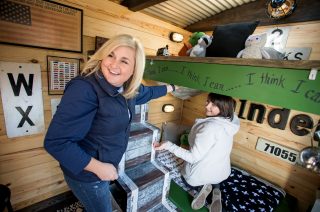 "And in the fourth grade," she said, "my very best friend was diagnosed with leukemia. I was able to actually go to Memphis and stay with her in the Ronald McDonald House. I would take her her homework. I always go back to that."
Spillers and Robinson stood in the caboose as they talked. Spillers pointed to the stairs beside the bunk beds. On the steps were the names of Minden-area children who have been St. Jude patients over the years.
They include Tina and Jeff Haynes' son Stanton, who died on the eve of his fourth birthday, in 2005. St. Jude couldn't save their free-spirited boy, who loved rodeos and race cars, but …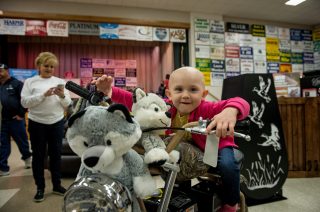 "We got two years that we wouldn't have had," Tina said. "And they were great years. St. Jude does everything they can to make it fun, and as normal for them as possible when there's nothing normal about it."
The majority of Minden patients, though, have survived — and increasingly so over the years, as the auction has coincided with research breakthroughs and dramatic leaps in survival rates at St. Jude.
Consider: The survival rate for acute lymphoblastic leukemia (ALL), the most common form of childhood cancer, was 50% in the early 1970s, about the time the auction began — up from 4% when the hospital opened in 1962.
It's 94% today.
Cora Lou Robinson is a retired teacher and a folk artist whose paintings have raised thousands for the auction over the years.
Her stories paint a picture, too, of why St. Jude matters so much in Minden.
She tells the story of a second-grade boy, displaced with his mother to Minden after Hurricane Katrina drove them from their New Orleans, La., home. They were living in their car.
In the weeks leading up to the auction, Robinson would make a daily announcement on the school's speaker system, urging the children to donate money to St. Jude. "Whatever they could," she said. "It didn't matter how much."
The boy's teacher offered to donate on his behalf, but he vowed to bring his own money for St. Jude "tomorrow." This went on for some days, then one morning he walked in, beaming. He'd found 50 cents under the floor mat of his mother's car.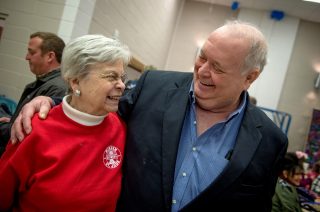 "This little boy who had lost everything — everything — walked up and gave that 50 cents to St. Jude," Robinson said. "To me, that is everything St. Jude is about."
Robinson also loves to tell stories about the six St. Jude patients she taught over the years. A favorite is Kris Xifos. When he was diagnosed with aplastic anemia as a second grader, his family was told that treatment might stunt his growth and development, that he might not be able to have children — if he survived.
He grew up to play high school football and baseball. He joined the Marine Corps and served in Iraq and Afghanistan. He ran the 2016 St. Jude Memphis Marathon.
Now a husband and father, he's eternally grateful to the hospital that saved his life, and the Cora Lou Robinsons — of Minden and the world — who support it.
"I'm alive today, and I have a daughter, because of people like her," Xifos said. "In my eyes, she's just as much of a hero as the doctors up there performing these miracles. You know what I'm saying?"
It all began in 1976, that bicentennial year of Jimmy Carter and Bruce Jenner and Silly Love Songs. But the Minden St. Jude Auction still resonates in this small town because the battle against childhood cancer still rages, no matter the year or what songs are on the radio.
So it was in 1992, when the auction was dedicated to the memory of a Minden teenager named Denise Whaley, who lost her battle with AML the summer before.
She was, said her mother Susan, "just your normal teenage girl." She liked Bon Jovi and Aerosmith, and the movie Ghost. She had a twin sister, Lori. She was on the Minden High drill team, the Louisi-Annes.
Told that she had leukemia and was bound for St. Jude, she asked, "Am I going to get to graduate with my friends?"
Denise died less than two weeks later, her battle over nearly before it began. But the town rallied, as it had before, as it would again. Susan remembers arriving home from Memphis to a street lined with cars, to a house full of people who cared, including Cora Lou Robinson, the twins' teacher from kindergarten and first grade.
Robinson's painting, Friends Forever, in which Denise and Lori are front and center in matching powder-blue dresses, holding hands and surrounded by other children during an Easter egg hunt, raised nearly $5,000 for the auction.
A newspaper account at the time credited an influx of new faces — students — with helping set an auction record. And so it is in 2018. More than four decades in, the Minden St. Jude Auction thrives because what one generation created, another seems duty bound to continue.
Meet Haynes Mandino. He's a junior at Minden High. He's on the student council and a catcher on the baseball team. He's a "Harry Potter fanatic," loves his TV cop shows, listens to Tim McGraw and Garth Brooks.
He's healthy, too — and thankful for it, in a heightened way that might be considered a Minden thing. He knows good health isn't to be taken for granted. Because Mandino has been raised on the auction. He volunteers, delivering heart-shaped auction yard signs around town. His mother, Amber, is merchandise chairman.
And Stanton Haynes, who died just shy of his fourth birthday, was his cousin.
So he gets it: Minden and St. Jude are joined at the heart. They have been for a long time. They will be, it seems, for a long time to come.
"You can look at this auction, you can look at what this community does. No one in this community will ever have to go through something alone."